This post may contain affiliate links which won't change your price but will share some commission.
Are you looking for a milk alternative that is budget-friendly, easy to make, doesn't contain gums, fillers or allergens and actually tastes good? This homemade rice milk is the perfect solution!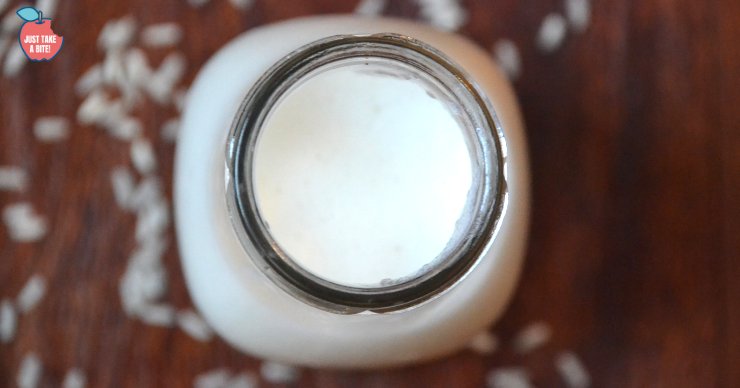 I have a love-hate relationship with milk alternatives.
I love that they are readily available since so many people have problems with dairy.
But I hate how expensive they are and all of the unhealthy ingredients added. Especially the Vitamin A and D supplements!! You can read about why I think that is such a BAD idea here.
Why You Should Make Your Own Milk Alternative
To avoid the cost and undesirable ingredients you really have to make your own milk alternative.
There are some really good ones. I love this coconut milk. But when you are working around a lot of allergies, many of the easiest and most delicious milk alternatives are out. We've had both almond and coconut allergies. Plus coconut milk is not allowed on the VAD Diet. So those aren't options.
When you eliminate nuts and coconut, you move to grains. My son has been drinking rice milk for a few years now. We tried a few different milks. But he would only drink rice milk. It's my favorite too.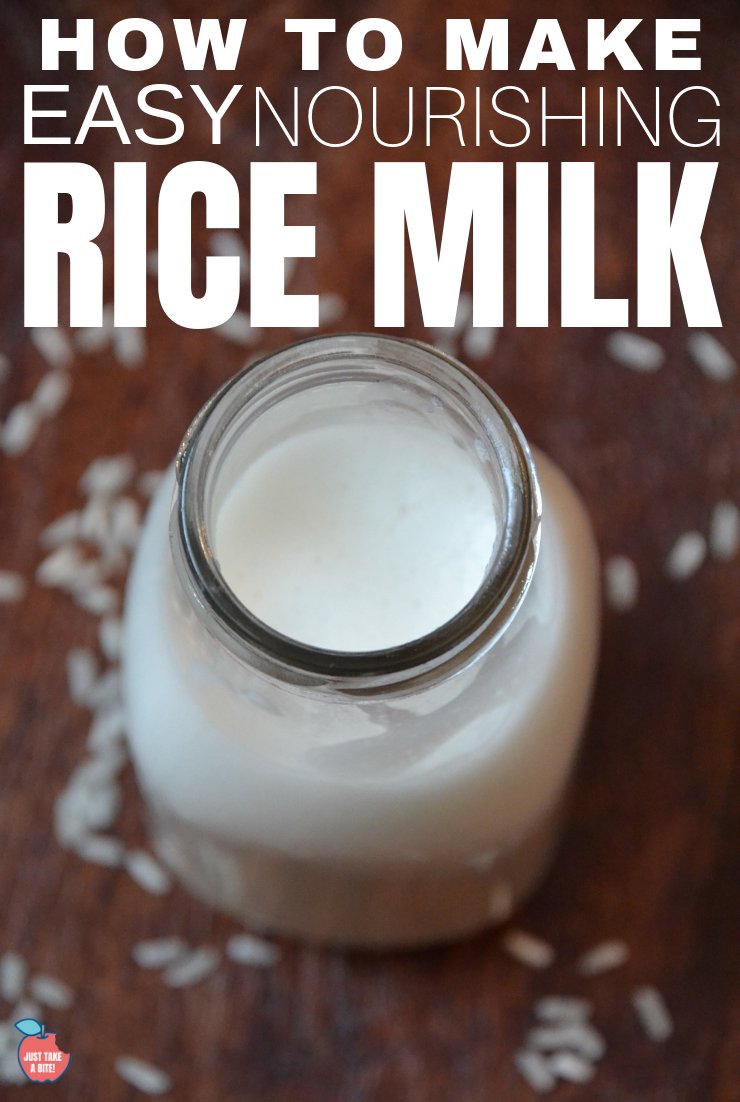 So we bought rice milk.
He drinks water most of the time. So it's not a daily staple. But it's still often enough that I was starting to investigate the ingredients and worry about it impacting his health.
We've used Organic Enriched Rice Dream for quite a while. Until I learned that it had Vitamin A and D added. We switched to the original variety to eliminate the vitamins, but there are still vegetable oils and gums. And Rice Dream it is made with fluoridated water! Yikes. (Learn more about the trouble with fluoride here and here.) Double strike.
The final straw was learning that most brown rice is high in arsenic. Three strikes. You're out!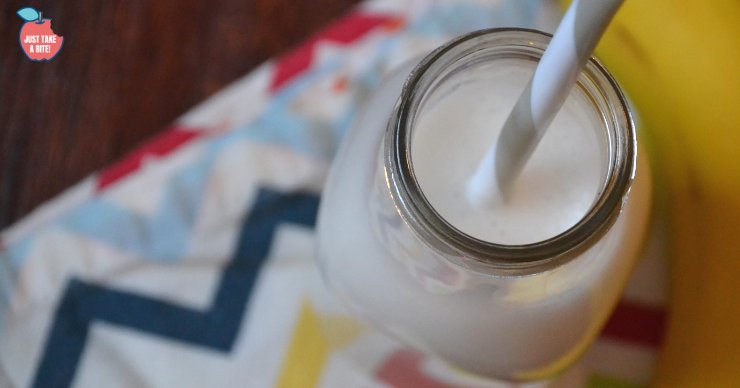 How to Make Homemade Rice Milk
I'm not one to shy away from making food from scratch. I make everything from graham crackers to cereal to ice cream to pretzels.
So I started by searching for homemade rice milk recipes.
They were all pretty much the same. Cook rice. Blend it with water. Drink.
I tried it. Yuck! It tasted just like you'd imagine. Thick rice-flavored water. And nothing like the rice milk my son was used to drinking. He wouldn't touch it.
There had to be a better way.
There is a better way. I did my own experimenting and came up with an easy and delicious homemade rice milk that my kids (and I!!) will actually drink. Honestly, I think it tastes better than the store-bought version. Even my 8 month old enjoys it.
Rice Milk with Nutrition
In addition to the great taste, my homemade rice milk includes healthy protein and fat. But no gums or fillers.
The protein comes from grassfed collagen. I choose Perfect Supplements brand collagen. It comes from well-raised cows.
Perfect Supplements offers a whole assortment of dietary supplements. One of my other favorites is MCT oil. Which you can also use in this homemade rice milk if you don't have a coconut allergy.
---
Take advantage of Perfect Supplement's year-round discount of 25% off when you purchase three of any product. Or if you really want to stock up and save you can get 30% off six or more of a product. You could split an order with a friend.
Then to sweeten the deal even more you can take an extra 10% off with the code TAKE10.
Now that I'm making homemade rice milk weekly I am using a lot of collagen. I also add it to my oatmeal for extra protein. I need to take advantage of the bulk discount and stock up!! My MCT oil that I add to my oatmeal every day is almost gone too.
---
Rice Milk That Actually Tastes Good
This homemade rice milk is so easy to make. It takes about ten minutes from start to finish.
You can choose your preferred sweetener and adjust it to your liking. Dates and maple syrup are very natural options. But they also change the color. Organic cane sugar is a very neutral flavor and keeps the milk white. This may be important for a child switching over from dairy milk. Looks can be everything. My kids actually really like the flavor of the dates.
My rice milk is also VAD Diet approved! It has been a huge blessing for me to have safe milk to drink again! And I can feel good about giving it to my kids or using it in our cooking and baking. I love to use it on my kettle corn granola or on a big bowl of steel cut oatmeal.
If you are looking for a milk alternative that is easy on your budget, doesn't take long to make, is free of common allergens and tastes great this is it! Homemade rice milk that actually tastes good.
I make a half gallon at a time. But you could make more or less depending on how much you use milk. I store it in quart mason jars with these really cool reCAP lids for easy pouring.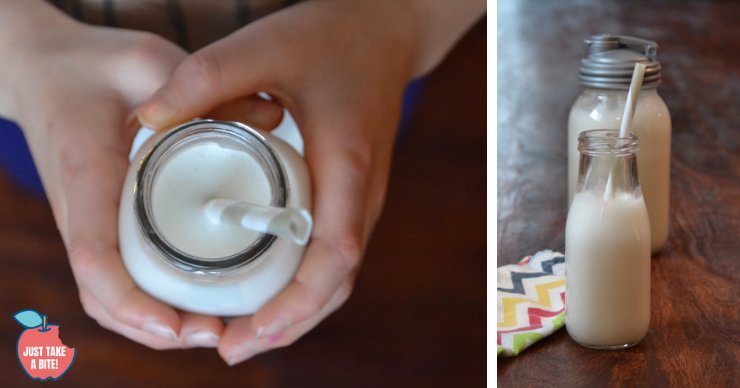 Have you ever tried making rice milk? What is your favorite milk alternative?
Homemade Rice Milk
A simple and delicious milk alternative that is free of allergens and fillers.
Ingredients
4

Tbsp.

organic/non-gmo white rice flour

4

Tbsp.

grassfed collagen

4

Tbsp.

avocado oil or MCT oil

3

cups

filtered water

1/4

tsp.

salt

4

pitted organic dates OR 2-4 Tbsp. maple syrup or organic cane sugar

2-3

cups

filtered water
Instructions
In a medium saucepan combine the rice flour, collagen, oil, 3 cups water, salt and sweetener.

Cook over medium-high heat, whisking frequently, until the mixture is hot and the flour starts to thicken, about 8 minutes. You will see steam rising. Keep cooking with it steaming for about 2 minutes.

Pour the mixture into a high-powered blender. Add 2-3 cups water and blend on high for 1-2 minutes, until smooth/all of the dates have been blended.

Pour into a glass jar, cover and refrigerate for up to one week.

Shake gently before serving.
Recipe Notes
You can adjust the water to make it as thin or thick as you like.
You can adjust the sweetener to your taste.
You can increase the collagen and oil if you want more protein and fat.