Feeding kids should be easy right? You cook…they eat.
But we all know it doesn't usually work that way. If your kids are like mine, they have their own opinions on what they want.
Turns out that's not such a bad thing! You just have to do a little investigating. I have some resources to help you do just that!
I'll help you figure out the best feeding strategies for your kids, whether they are "picky eaters," have food allergies, are struggling with sensory issues, or they simply like to be in control.
The best place to start is with understanding HOW your child eats. The Eating Styles Membership walks you through the steps of pinpointing your child's true nature, what types of foods he or she likes best, the proper eating environment, and more. Then you'll learn how to use that information in the context of a nutrient-dense, whole foods diet. Learn more here…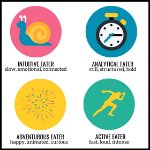 Eating Styles Premium Membership
Learn exactly HOW to feed your child before you even consider what to feed them. You'll learn to work with your child's strengths and natural tendencies to make meal times pleasant for everyone.
If your child is showing signs of deeper health issues, such as hives, eczema, tummy aches, and allergies, you might have to dig even deeper. My book Why Won't My Child Eat?! will help you find root causes to the food reactions. Learn more here…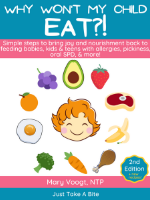 Why Won't My Child Eat?!
Are meal times a daily struggle? Does your toddler have a very limited diet? Does your child seem to react to certain foods? Have you tried all of the typical remedies for picky eating with no luck? I've been there. In this easy-to-follow book I'll share how I got all four of my kids to eat a wide variety of nutrient-dense food. Even my youngest daughter that got to the point of literally eating nothing. You'll learn how to observe your child, what to watch for, and where to start, the three different types of allergic reactions your child could have, the key first step to getting your child interested in food again, and feeding strategies from birth to teens. I'll teach you how to to bring joy and nourishment back to feeding your child!
You can also purchase Why Won't My Child Eat?! on Amazon!
Maybe you simply have an under-eater or you think your child is deficient in essential vitamins and minerals. Easy Nourishment for Picky Eaters is loaded with simple drinks that are loaded with nutrients. But they taste great and will be a hit with any child. Learn more here…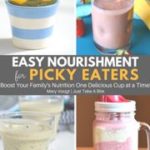 Easy Nourishment for Picky Eaters
Picky eaters are at risk for nutritional deficiencies. In fact, these deficiencies often cause picky eating in the first place. Mary offers simple, nourishing drinks to help get any picky eater back on track to full health and appetite. Kids and adults alike will love these drinks that include fun flavors like apple pie a la mode and peach cobbler. The recipes in Easy Nourishment For Picky Eaters work for those with allergies. They are even safe for children as young as 6 months. Don't let picky eating get in the way of good health. Drink your way to a well-nourished body.
You can also purchase Easy Nourishment For Picky Eaters on Amazon!
---
Enjoying your products? Want to earn money for telling your friends about them?