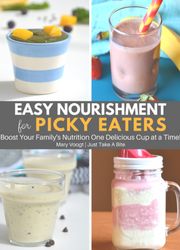 Worried your selective eater isn't getting enough nourishment? Worried about the health consequences of a diet lacking in nutrients?
Picky eaters are at risk for nutritional deficiencies. In fact, these deficiencies often cause picky eating in the first place.
Easy Nourishment for Picky Eaters offers simple, nourishing drinks to help get any picky eater back on track to full health and appetite.
Kids and adults alike will love these drinks that include fun flavors like apple pie a la mode and peach cobbler. The recipes in Easy Nourishment For Picky Eaters work for those with allergies. They are even safe for children as young as 6 months.
Don't let picky eating get in the way of good health. Drink your way to a well-nourished body.