Do you desire to feed your kids well, but you feel like you're just too…
busy
exhausted
overwhelmed with all of the feeding and diet advice out there?
Maybe you've tried some speech therapy or you've worked with a psychologist. Maybe you've talked to your pediatrician but he or she doesn't really have any advice?
You know your kids would benefit from a more nourishing diet and a healthier lifestyle, but you're just not sure where to start?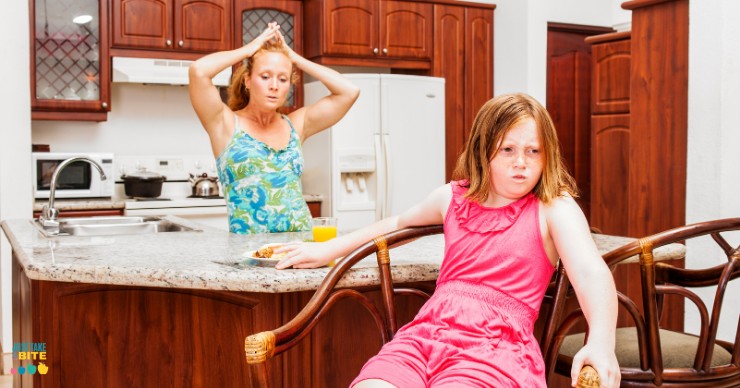 Or maybe for you it goes deeper. Are your kids…
gagging on food
only willing to eat purees and granola bars
anxious around food
struggling with stomach aches and digestive upset?
Mama, you are not alone! There is hope. You can have the well-nourished, thriving children you desire.
Imagine a life where:
Your kids are excited about vegetables!
The dinner table is a place of joy and family connection instead of chaos.
Your kids can just be kids without the modern-day concerns like ADHD, anxiety, eczema, sugar cravings, headaches, and obesity.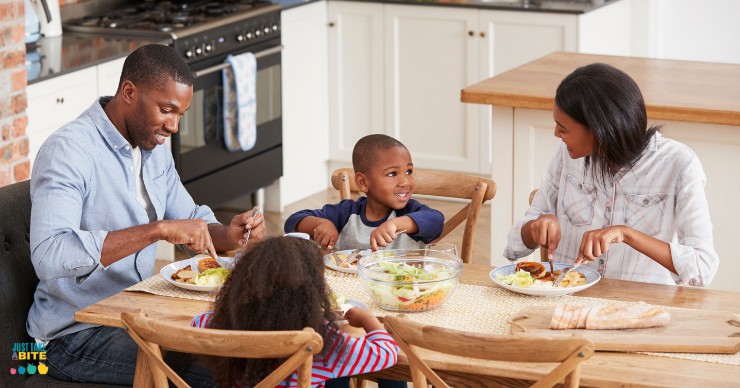 I created Just Take a Bite to help moms like you learn how to overcome feeding obstacles and easily feed your kids healthy meals without overwhelm or spending half of your day in the kitchen.
In my world, there are no picky eaters.
That can be true for you too!

Welcome to Just Take a Bite!
I'm Mary – a Nutritional Therapy Practitioner, feeding expert, and lover of all things Real Food! I am passionate about raising a generation of nourished children by overcoming any feeding obstacle.
I'm a homeschooling SAHM to two girls and two boys. I've been married to my best friend and partner on this crazy journey since 2003. But rewind a few years and I was an overwhelmed mom of kids that wouldn't and couldn't eat…just like you. This is our story of struggling through feeding challenges for over ten years.
MEET MY FAMILY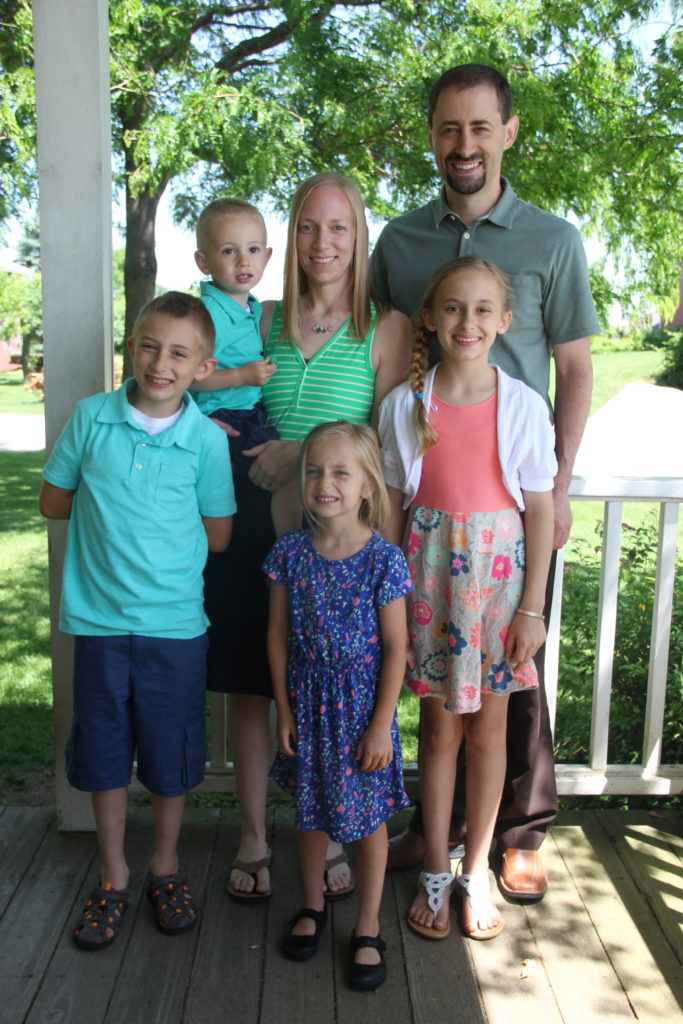 Before I became a mom I knew raising kids would be challenging. I didn't know how to change a diaper. I didn't know what to do for a fever. I had a big learning curve.
The one thing I never thought would be a struggle was feeding my children.
Potty training? Yikes!
Food? I've got this!
OUR FIRST TASTE OF FEEDING CHALLENGES…
My oldest daughter was born in 2008. Breastfeeding was a struggle at first. It was painful. She didn't latch well. But we got it going…and going….and going. She would nurse for 1 – 1 1/2 hours at a time. It consumed my day. Until she started refusing to nurse during the day at 11 months. And eventually weaned completely at 17 months.
As she started solid foods we encountered more challenges. She would:
hold a bite of food in her mouth for a half hour or more without chewing.
gag on foods of certain textures. Although she wasn't a "picky eater," she really struggled with the chewing/swallowing part.
mostly only eat pureed food at age 2.
not eat anything with a hint of spice or strong flavor in her food.
not eat anthing too crunchy, too thick, or too mushy.
She had developed oral sensory processing disorder combined with a lip tie and a lack of focus due to adrenal problems caused by poor sleep – though it wasn't until years later that I figured it all out.
Meal times became more and more stressful as it would take an hour to get through a piece of toast. I had to feed her every bite until she was about 4 years old. And still fed her at times until age 6. We ended up working with a speech therapist, a psychologist, a functional neurologist, and ended with palate expansion with bioblok orthotropics.
You better believe there were many (many!) days I wanted to shout:
Just.

Take.

A.

Bite

!!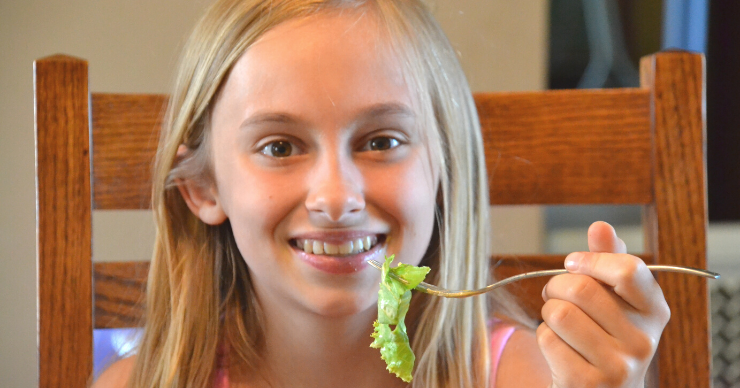 The biggest impact on my daughter's health came at age five when we removed gluten and food dyes from her diet. I visibly saw the sparkle in her eyes come back. We have also used my Eating Styles and Nutritional Therapy to help her reach her full potential.
Now at 12 years old she in an Adventurous Eater that loves to try new food and be creative in the kitchen! She's more adventurous with her food than I am!
OUR ENTRANCE INTO THE WORLD OF FOOD ALLERGIES…
My oldest son was born in 2011. He nursed very well. But around age two he became a picky eater and developed severe eczema. After working with an allergist, we discovered he had a long list of food allergies.
While his gut was a mess, his diet became so limited. We had to cut a lot out. Plus he no longer would eat the healthy foods he had once enjoyed. Put one piece of carrot on his plate and he would literally run screaming from the table.
Again, through this journey I had many meal times of just sitting there thinking, "Would you please Just.

Take.

A.

Bite.

of food!"
It was a long journey to improve his digestive health and get him to eat more food.
Due to his restricted diet we also encountered nutrient deficiencies and eventually blood sugar issues. The ups and downs of tantrums, outbursts, and crying from the imbalances were draining on the whole family.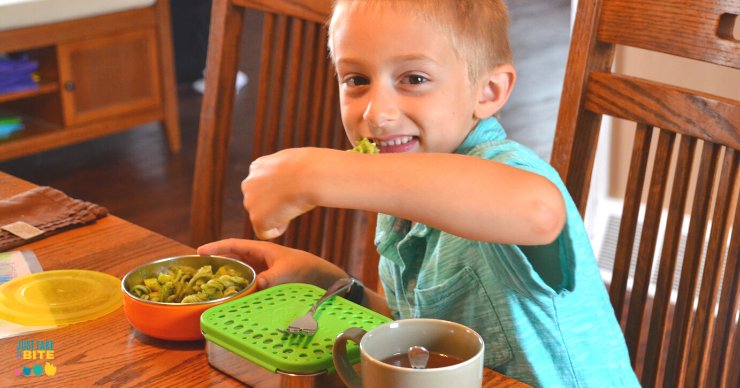 Thanks to Nutritional Therapy, food rotation, and blood sugar management, he is now a great eater and has eliminated a lot of his allergies. The real trick these days is getting my Active Eater to slow down!
WHEN MY DAUGHTER STOPPED EATING…
Along came baby sister in 2014. Surely this child will be easier to feed, right? Not exactly.
From the day my youngest daughter was born she struggled with nursing. She would only nurse for a few minutes at a time, even up until 18 months old! So feedings were every 45 minutes to an hour, even at night. She also made a clicking sound when she nursed.
For the first time I started to read about tongue ties. I had her evaluated by a speech therapist and a pediatrician. They both advised to leave it alone. So we did.
At one month old we cut out dairy because she was having very strong reactions to it, including blood in her stools and rashes.
Around five months old she took a turn for the worse and started reacting to any food from a palm tree – which includes coconut, palm, and dates – along with a few other foods. We also had her tongue and lip ties clipped.
It took a long time to recover from that and to figure out the foods that were bothering her.
I spent many days and nights worried and in tears, just praying she would nurse a little more and that she was getting enough nourishment.
She barely ate.
She was dehydrated.
She wasn't gaining any weight.
Around nine months old we had another setback and more food reactions. We had her tongue and lip ties clipped again. But the struggles still remained.
It was through careful observation and trial and error that I came up with her long list of food restrictions.
For a long time each day was a challenge with feeding her. She was just so limited in what she could eat and got sick of it. We used a rotation diet to prevent new allergies.
But if she had any kind of allergy flare her tongue swelled and her tummy got messed up. Then we had several days of hardly eating again.
And again I had many, many, many days of wondering, "Why won't my child

Just.

Take.

A.

Bite

?!"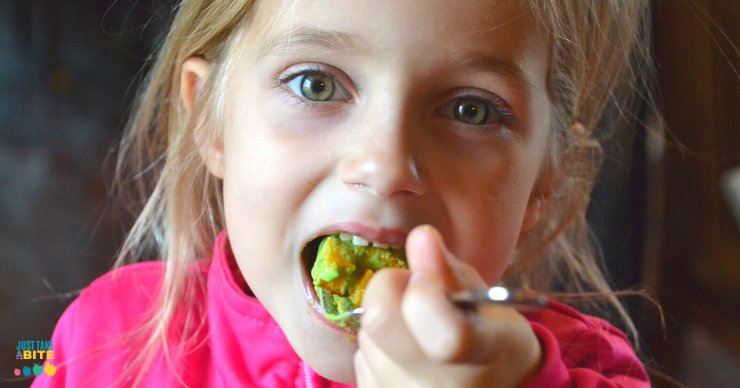 But I did not give up!
She breastfed until two and half years old because, unlike most kids that age, she truly needed it to surive.
We worked with a Nutritional Therapy Practitioner (NTP) and used Hair Tissue Mineral Analysis (HTMA) to fine-tune her diet and add supplements to support her body and allow her to eat again. This is what spurred me on to become an NTP myself! It also inspired me to write my first book, Why Won't My Child Eat?!.
At six years old she is doing very well. She can eat almost anything and loves to help in the kitchen. Although my Intuitive Eater may always be on the small side, she is now an amazing eater that is thriving!
OUR FINAL UNEXPECTED FEEDING HURDLE…
After the extreme feeding struggles with my daugther, I thought for SURE baby number four would be easier. I was wrong.
My son was born in 2018. He had feeding issues from day one too.
He had:
short feeds
refusal to eat
slow weight gain
a flat spot
horrible teething pain…the list goes on.
The first six months were filled with constant anxiety and round-the-clock feeding attempts. Our introduction to solids was a challenge as well.
Even with my fourth baby I wondered why won't you "Just.

Take.

A.

Bite?"
Thankfully after working with a lactation consultant and a pediatric dentist, we had his tongue tie clipped twice and had great success with craniosacral therapy to release the tension in his body.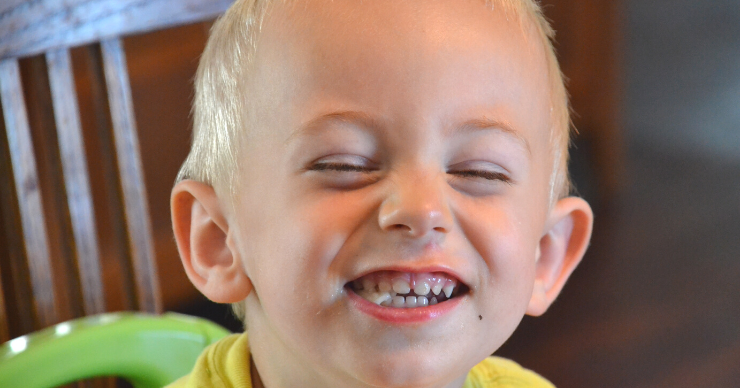 Although it was a struggle for many months, we did figure out all of his food reactions and have successfully continued to breastfeed past two-and-a-half years old! In additon, we have been able to add many foods back into his diet.
He is now a healthy, big boy! And my little Adventurous Eater loves food.
THE END OF MY STORY…THE BEGINNING OF YOURS!
Needless to say I have learned a lot about feeding challenges, allergies, tongue and lip ties, mouth breathing, oral SPD, and feeding tactics since 2008.
Now I am passionate about discovering the underlying causes of "picky eating" and identifying the right nourishing food to feed kids who struggle with eating challenges.
Just.

Take.

A.

Bite.

is a resource for moms that need advice, recipes, and support through the hard days of dealing with children that won't or can't eat well.
After four kids with unique feeding challenges, I've dealt with just about everything.
I have learned how to get my kids to Just. Take. A. Bite!! without it being a struggle.
As a Nutritional Therapy Practitioner I love helping my clients do the same. And I will be a fierce food detective on your team too!
I want to save you those midnight tears, the constant wondering if your kids will be ok!
I believe…
there are no picky eaters,
picky eating is a symptom, not a condition,
picky eating is the tip of the iceberg – there is a lot more going on below the surface,
any child can be a great eater,
all children deserve to feel like a kid,
any feeding challenge can be overcome!
Here is what you can expect from Just Take A Bite:
Simple steps to transition from the Standard American Diet (SAD) to a nutrient-dense whole foods diet that your kids will love (take your first step HERE)
Tools to understand HOW your kids eat. Learning your child's Eating Style turns you into a picky eater mind reader! You'll know exactly how to feed YOUR kids and be the mealtime super hero.
One-on-one support for addressing deeper feeding struggles and health challenges. Picky eating is just the tip of the iceberg. By addressing the root cause of the picky eating your child can think clearly, stay focused, feel like a kid, and THRIVE!
Weekly meal plans and nutrition advice
Free recipe ebooks on breakfast, dairy-free substitutes, and kid favorites.
Books on feeding picky eaters.

Expert articles to get you started like:
Natural Remedies to Help Mouth Breathing
10 Tips for Keeping Real Food on the Table When Life Gets Busy
The Parental Stress of a Child with Feeding Challenges
The Best Strategies for Feeding a Child with Oral Sensory Processing Disorder
How a Rotation Diet Helps with Food Allergies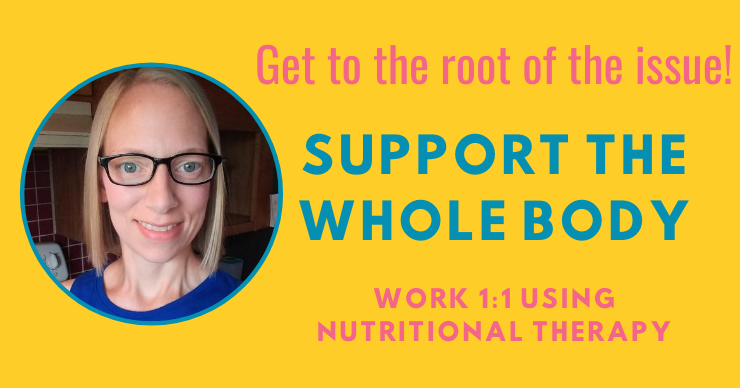 Mary Voogt – BSE, NTP, Mom of 4, Author, Kids Feeding Expert, and founder of Just Take A Bite
A little bit about me:
I love soccer and was a fiesty 5'3″ goalkeeper all the way into college. I love a good challenge!

I thrive on routine and a checklist. I keep my days very structured and consistent, and I love to check things off as I go!

I am painfully shy; yet I enjoy deep 1:1 conversations. I love talking to my clients!
I have a degree in electrical and computer engineering with a minor in Spanish. I have the gift of problem solving while also enjoying learning languages! Which is why I am passionate about helping parents get to the root of their feeding struggles and speaking their kids' "food language."

My goal in life is to help raise a generation of kids that understand how to care for their bodies and nourish themselves. I am energized by helping parents through their feeding challenges.

Most of all I love to spend time with my family on our hobby farm/orchard with our lovely hens and barn cats.
If you spend your days wishing your kids would Just Take A Bite, you've come to the right place. I'm here to help!

Looking for some bite-size feeding tips to help you on your journey? Follow me on Instagram or Facebook! I share our day-to-day feeding challenges and solutions, nutrition information, meal ideas, and more!

PAID ENDORSEMENT DISCLOSURE: In order for me to support my blogging activities, I may receive monetary compensation or other types of remuneration for my endorsement, recommendation, testimonial and/or link to any products or services from this blog. It will not impact the cost of any products/services for you.