This post may contain affiliate links which won't change your price but will share some commission.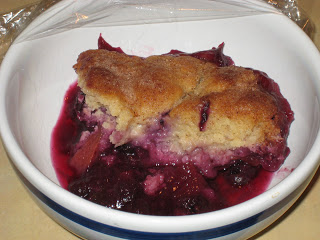 I found a good recipe for peach cobbler on AllRecipes. I modified it to be blueberry peach cobbler since I had both from the farmer's market. I remembered to take a picture of the last piece 🙂
*Edited 7/28/11 with healthier ingredients.
Blueberry Peach Cobbler
4 peaches, peeled, pitted and chopped
2 cups blueberries, washed
1/2 cup cane sugar/rapadura or maple syrup or honey
1/4 tsp. cinnamon
1/8 tsp. nutmeg
1 tsp. lemon juice
1 1/2 Tbsp. cornstarch or arrowroot
1 cup whole wheat flour (can be replaced with a gluten free flour mix)
1/2 cup cane sugar/rapadura or maple syrup or honey
1 tsp. baking powder
1/2 tsp. salt
6 Tbsp. butter, chilled and cubed
1/4 cup boiling water
3Tbsp. cane sugar/rapadura
1 tsp. cinnamon
Heat oven to 425. Mix 3Tbsp. sugar and 1 tsp. cinnamon. Set aside.
In greased 1 1/2 or 2 qt. baking dish combine peaches, blueberries, sugar, cinnamon, nutmeg, lemon juice and cornstarch. Toss. Bake 10 min.
Meanwhile, in a large bowl combine flour, sugar, baking powder and salt. Blend in butter until it resembles coars meal. Sitr in water until just combined.
Remove peaches/blueberries from oven. Drop topping by spoonfuls over fruit. Sprinkle with sugar/cinnamon mix. Bake about 30 min., until topping is golden.