This post may contain affiliate links which won't change your price but will share some commission.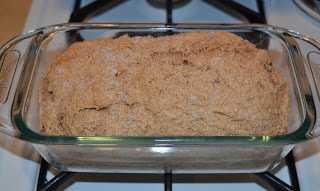 One of the first recipes I "posted" on my blog was beer bread. I guess I never actually posted the recipe…just a picture and a link to my cousin's wife's blog. Her blog is now by invite only, so that doesn't do much good 😛  I haven't made this bread in a long time because it uses white self rising flour. Not something I use anymore. Then the other day I thought it sounded good and wondered if I could modify it to make it healthier. So last night I gave it a shot. And it worked!! All 3 of us loved it. It is one of the easiest breads you can make. Rebecca practically made it by herself…and she's 2. So glad I gave it a try. It tastes great and it's nice to have a recipe on hand for bread that you can throw together in 5 minutes. I'll post both versions of the recipe. I'll definitely be using the whole wheat version from now on. The dough is very sticky and takes a little work to stir. I also sprinkle some sea salt on top of the dough before I bake it. I love that little salty bite of the crust. Any kind of beer will do…but it will alter the flavor. When we have beer in the house it's usually a dark beer. We've also used Woodchuck cider before. That was good. I have yet to attempt making it with root beer. Not sure if that works or not. And maybe at some point I'll experiment with soaking the dough or using sourdough. But for now at least I have a whole wheat version.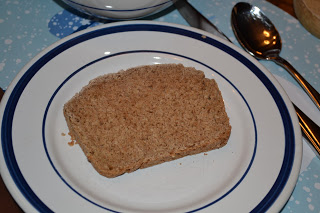 Whole Wheat Beer Bread
(white flour/non-NT version)
3 cups self-rising flour
3 Tbsp. sugar
1 bottle/can any flavor beer
——————————————
(whole wheat version…the one I use)
3 cups whole wheat flour
1 1/2 tsp. salt
4 1/2 tsp. aluminum free baking powder
3 Tbsp. cane sugar or sucanat
1 bottle/can any flavor beer
Mix all ingredients until dough forms. Add dough to a buttered medium loaf pan. Bake for 40-45 min. at 350 degrees until golden brown and baked through.