This post may contain affiliate links which won't change your price but will share some commission.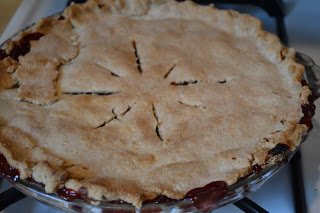 A couple weeks ago we found out that our local orchard would be getting tart cherries! I didn't think we could get fresh tart cherries around here. So I ordered 5 lbs. They came pitted so I didn't have to do anything to them! Justin has wanted me to make a real cherry pie with tart cherries for years. And I always tell him I would but I don't know where to get the cherries. Well, we finally have them. Picked them up yesterday morning. And can you guess what else we did yesterday morning? Made cherry pie 🙂  I don't think I've ever had fresh cherry pie myself. I've never liked cherry pie…probably because most people use boughten pie filling (gross). This turned out great! I had to have a tiny taste…and even I like it. It was probably one of the uglier pies I've ever made…trying to roll out dough in a hot kitchen with a crying baby and a toddler that won't stop picking at the dough is a bit of a challenge. I was happy to just get the crust in the pan in mostly one piece 😛  But it still tastes great. And I even let Rebecca make a mini pie for herself with the crust scraps.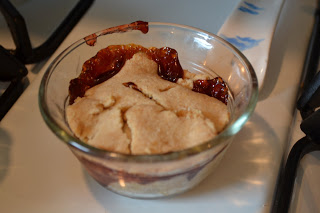 Justin gave this two big thumbs up. I used my usual
crust recipe
and the filling recipe from the
Food Network
. This was quite easy to make. I didn't add the butter or the sugar on top…I was lucky to actually get the pie done/in the (toaster) oven. I'm sure it would have been good, but it isn't necessary. I froze the rest of the cherries so I can make another pie sometime or maybe try another cherry dessert with tart cherries.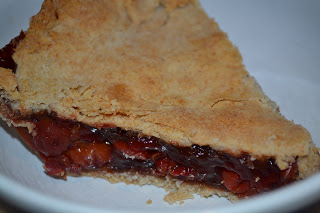 Cherrry Pie
1 prepared double pie crust (recipe below)
4 cups fresh or frozen tart cherries
1 to 1 1/2 cups granulated sugar (I used cane sugar/rapadura)
4 Tbsp. cornstarch (I'm sure you could use arrowroot instead or some people use tapioca)
1/8 Tbsp. almond extract (optional)
1 1/2 Tbsp. butter, to dot
1 Tbsp. granulated sugar, to sprinkle
Place cherries in medium saucepan and place over heat. Cover. After the cherries lose considerable juice, which may take a few minutes, remove from heat. In a small bowl, mix the sugar and cornstarch together. Pour this mixture into the hot cherries and mix well. Add the almond extract, if desired, and mix. Return the mixture to the stove and cook over low heat until thickened, stirring frequently (took me about 3-5 min.). Remove from the heat and let cool. If the filling is too thick, add a little water, too thin, add a little more cornstarch.
Preheat the oven to 375 degrees F.
Prepare your crust. Divide in half. Roll out each piece large enough to fit into an 8 to 9-inch pan. Pour cooled cherry mixture into the crust. Dot with butter. Moisten edge of bottom crust. Place top crust on and flute the edge of the pie. Make a slit in the middle of the crust for steam to escape. Sprinkle with sugar.
Bake for about 50 minutes. Remove from the oven and place on a rack to cool.
Pie Crust (double)
2 cups flour (white or whole wheat or a combo of the two)
1 tsp. salt
2/3 cups + 2 Tbsp. palm shortening or cold butter or lard
1/4 cup water
1 tsp. vinegar
Combine flour and salt in food processor. Add half of the shortening and pulse until it gets crumbly. Add remaining shortening and pulse until it looks like small peas. Add water and vinegar. Process until dough forms. Remove. Split into two parts. Use immediately or wrap in plastic and store in the refrigerator until ready to use.