This post may contain affiliate links which won't change your price but will share some commission.
I am continuing to experiment with soaking grains and trying recipes from my Kitchen Stewardship e-book. Today I'm trying a soaked pie crust. The recipe is from Make a Home Mom. It is very easy to prep. I did it all in the food processor (same as I do for all of my pie crusts). I prepped it last night. This morning I rolled it out and put it in the pie pan and then in the refrigerator. Now it's all set for our quiche tonight! So far it seems to be a great dough. Easy to prep. Easy to roll. I'll update after we try it tonight.
This makes enough for a top and bottom crust. I only need a bottom. So I froze half of it to use another time. I also used a small amount for the ice cream we're going to make today. I rolled it out, sprinkled on sugar and cinnamon and baked it. Once it was cool I crumbled it a bit. We'll be adding this to our blueberry crumble ice cream today (Rebecca's request). I tasted a piece of this…really good! So I expect our quiche crust tonight to be good as well.
**Update – the crust was great!! We all enjoyed it. I look forward to making a pie with it sometime.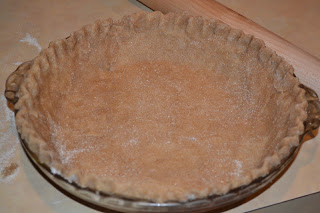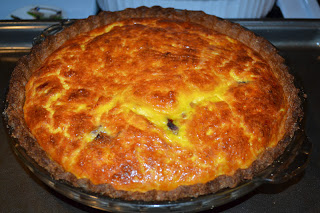 Soaked Pie Crust
2 1/2 cups flour (I used freshly ground whole wheat)
3/4 tsp. salt
3/4 tsp. sugar
1/4 cup oil or melted butter (I used EVOO b/c it was what I had on hand that was convenient/quick)
1/2 cup cold butter, cut in chunks
2 Tbsp. yogurt
5 Tbsp. ice water
Mix flour, salt and sugar (I did this all in a food processor). Stir in oil. Cut in butter by pulsing the processor. Mix yogurt and water. Add into flour mixture until it makes a dough. Leave out for 8-12 hours (covered). Refrigerate 2 hours. Roll out on a well floured surface as you would any other pie dough. (I did not refrigerate mine before rolling it. I like it to be soft to work with it. I did refrigerate it before baking to keep it flaky).
*This makes enough for a top and bottom crust.
*You can freeze this for future use. Thaw in refrigerator when ready to use.