This post may contain affiliate links which won't change your price but will share some commission.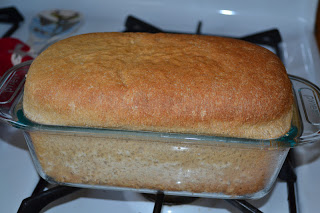 Yes, it is another soaked grain recipe from my Kitchen Stewardship e-book 🙂  This bread recipe comes from Kelly the Kitchen Kop (a fellow West MI blogger and WAPF chapter board member!). I've done quite a bit of experimenting with bread making over the last few years. Some hits. Some big misses. Considering I still haven't perfected regular bread baking I wasn't sure what would happen with a soaked version. Would it taste good? Would the texture be ok? Well, I'm glad I gave this a try. It's great!! And it was super easy to make. As usual I scaled the recipe back to only make one loaf on my first attempt (I hate to make a big batch and then not have it turn out). I wish I would have made the full recipe now 😛  I don't think this loaf will last long now that I can eat it 🙂  This bread is super soft and has great flavor. All three of us really enjoyed it with our soup last night. And I had some for breakfast today. Tastes great toasted with butter or nut butter.
This recipe does use some AP flour. I'm starting to think it's pretty tough to make a really good loaf of bread without a little AP flour. I still like to use mostly freshly ground whole wheat. But just a little bit of organic AP flour really does wonders for the texture.
I really like that you can freeze this bread at the dough stage. Then you can have freshly baked bread ready in no time. I'll have to try that the next time I make this…which might be very soon 🙂  Kelly's recipe suggests using a Bosch mixer. I used my Kitchen Aid. It worked just fine.
My timing on this wasn't the best since it was ready to be baked right at nap time. So I stuck it in the oven and started walking with Abram. When it was done I was able to get it out of the oven with him still asleep in the Moby. But I couldn't take it out of the pan right away. It did get a little soft having to sit in the pan. But I just stuck the loaf back in the oven (not in the pan) for a few min. and it firmed back up.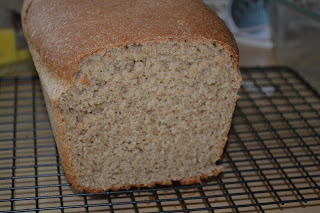 Soaked Bread
makes 3 loaves
4 cups whole wheat flour
1 1/2 cups spelt (or you can just use more whole wheat) (I used whole wheat)
3/4 cups buttermilk (you could also use whole milk yogurt, or kefir. or use an equal
amount of water + 1 T. lemon juice, whey or vinegar) (I used yogurt)
2 cups very warm water
1 egg (when I did 1/3 of the recipe I just used the white of one egg…kept the yolk to use in our lunch 🙂
3 cups Bob's Red Mill white unbleached flour
1/4 cup warm/hot water
1/4 cup coconut oil
2 1/2 Tbsp. yeast
1/2 cup local raw honey
1 Tbsp. sea salt

The night before, add wheat and spelt flour, buttermilk, and water to your Bosch Kitchen Mixer. Mix just until all the flour is wet. Put the lid on the Bosch, and let set at least 7 hours but 12 or more is even better and you may even have a nice sourdough taste.
The next day, or whenever you're ready to finish your bread, add the egg and white flour to the Bosch. Measure a 1/4 c. hot water in a measuring cup…don't put it in yet…but add to the hot water (so it melts) 1/4 c refined or unrefined coconut oil. (If it's warm in your kitchen and the oil is already melted just add these two ingredients.)  Once it's melted, add it in, and start mixing on the lowest speed.
Add yeast, keep mixing on lowest speed. Add honey and seal salt.
When the dough has cleaned up the sides and middle of the bowl, check how the dough feels and see if you need a bit more water or flour (you'll know if it feels too dry or wet), and then set the timer for 14 minutes and continue mixing on the lowest speed.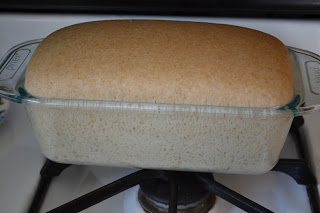 Meanwhile, butter your bread pans. (Butter up and over the lip of the bread pan, so it will come out easily after baking.) When the dough is done, use buttered hands to split it into 3 equal pieces (some weigh it out, but I just guess), shape them into a loaf, and press into the pans. Be careful not to fold it over itself and leave big air pockets.
————————————————————

VARIATION FOR FREEZING THE DOUGH:
At this point you could shape the dough to fit in your pan (or shape into buns to use in the fugure), then freeze before letting it rise. When it's frozen, transfer it to a freezer baggie. Now you have homeade bread all ready to thaw, rise adn bake someday when you feel like fresh-baked heaven right from the oven. Or keep reading if you plan to bake them all at once and then freeze.
————————————————————-
The rise time depends on the temp in your kitchen – usually 2-3 hours. When it's the height you want (don't wait too long or it will fall), carefully place the bread pans into a cool oven (if it is electric) and set it for 350 degrees. Bake 25 min. For a gas oven preheat to 350 and bake for 20 min.
When you take it out of the oven, immediately (carefully) take it out of the pan and cool on a wire rack, otherwise condensation builds up in the pan and makes the bread soggy.