This post may contain affiliate links which won't change your price but will share some commission.
Don't let the stress of the holidays alter your real food plans. Here are my simple tips to cook real food for a crowd without any stress!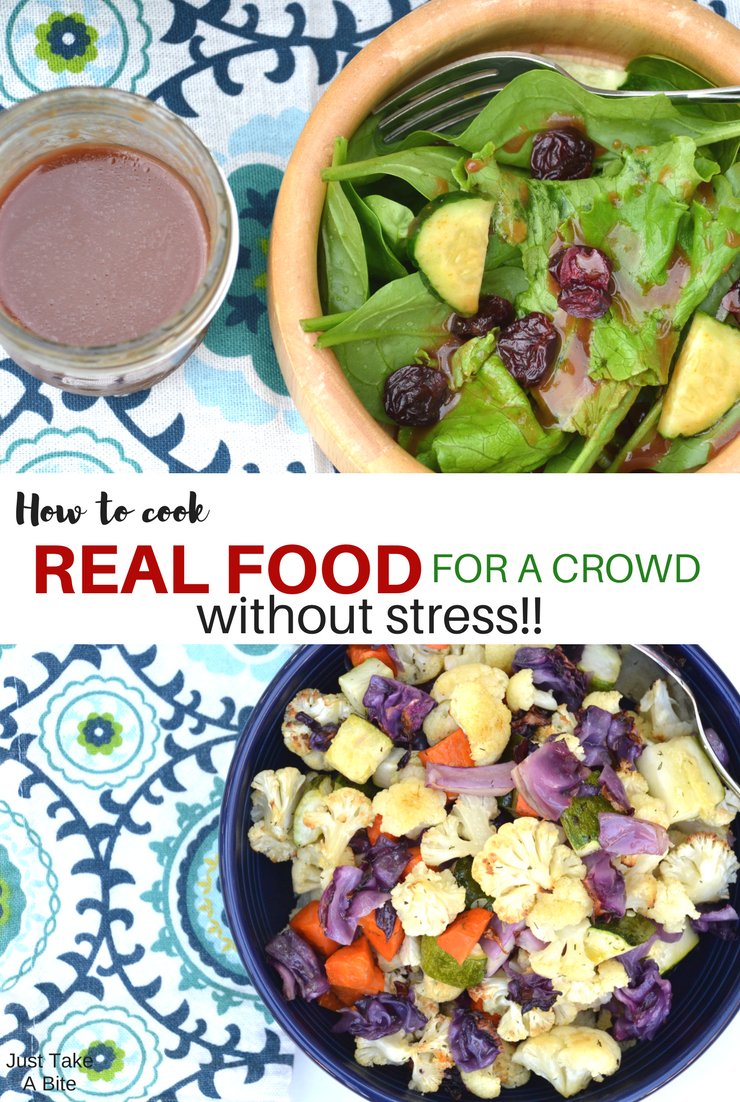 Is it just me or is the end of the year crazy busy? The last thing I want to do is spend half of my time in the kitchen. Especially when I'm with family.
I'm the queen of making things as easy as possible (like this Instant Pot mac 'n' cheese). We just hosted Thanksgiving…and I was able to take a nap in the afternoon before the big meal (being pregnant had something to do with that)!
No rushing around. It was so laid back.
And yet we had quite a feast that I prepared completely by myself (well, my kids helped with chopping veggies and making the desserts since they are experts in the kitchen after doing the Kids Cook Real Food eCourse).
My Secret to Entertaining Without Stress?
Do as much prep ahead as possible. My goal when cooking for a crowd is to make as much food as I can ahead of time and just put things in the oven/crockpot/Instant Pot the day of. I tackle one or two projects a day leading up to the festivities. So I'm not overwhelmed.
Then I get to take it easy and spend time with my guests on the day of the party. No shortcuts with packaged food necessary.
I even have the added work of hosting for several days since my family is all out of town. So it's more like meal prepping for three full days of meals instead of one big meal. But it's still totally doable! The only thing I had to make at the last minute this year was the gravy. Everything else for our meal had been prepped hours or days ahead.
First Step to Cook Real Food for a Crowd
The first step is menu planning. Do this a few weeks in advance so you have time to shop for supplies and gradually work through your list. Then figure out what can be made weeks in advance, days in advance or the morning of. And go from there.
Here is my course-by-course breakdown of how to create a delicious holiday menu that you can prepare in advance. Your guests will be amazed by all of the real food goodness and you'll get to enjoy spending time with them. Pick and choose from each category for your best holiday feast ever!