This post may contain affiliate links which won't change your price but will share some commission.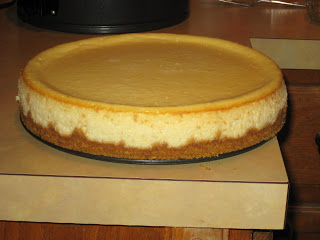 Finally we get to dessert 🙂 This is my "secret recipe" for cheesecake. But I guess I'll share it. I found it years ago on Food Network. I LOVE cheesecake. But I don't have an opportunity to make it very often…can't make a whole cheesecake for just Justin and me 🙂 I make it plain and let everyone pick their toppings. Yesterday we had cherries (cherry pie filling), chocolate (homemade fudge sauce) and caramel. It's good with blueberries too. And nuts go well with the chocolate and caramel.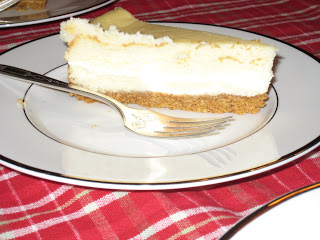 Finale Cheesecake
2 cups graham crackers crumbs (or cookie crumbs)
1 cup plus 1 Tbsp. sugar
1 stick butter (I only use about 5 Tbsp.)
3 (8 oz.) pkgs. cream cheese, softened
3 eggs
1 tsp. vanilla
1 Tbsp. lemon juice
1 cup heavy cream
Mix the crumbs and 3 Tbsp. of sugar. Melt the butter and stir into the crumb mixture. Press into the bottom of a greased 9″ spring form pan. Set aside. Using an electric mixer blend the cream cheese and the remaining sugar until creamy, wiping down the sides of the bowl and the beaters with a spatula to incorporate all the cheese. Add the eggs 1 at a time, beating after each addition. Add the vanilla and lemon juice to the cream, then slowly stir into the cheese mixture.
Meanwhile preheat the oven to 350. Put the prepared pan into a slightly larger rectangular pan. Pour cheese mixture into the springform pan. Set both pans in the oven and fill the rectangular pan with water, half way up the sides of the round pan. Bake until firm and golden brown, 45-50 min. Cool completely before removing from pan.
*I put tinfoil on the outside of the round pan and up the sides a bit just to be sure no water gets in.
*I bake this for about an hour and 20-30 min. 45 min. is nowhere near long enough.
*I always bake it the day before and let it set in the refrigerator over night to really firm up.