This post may contain affiliate links which won't change your price but will share some commission.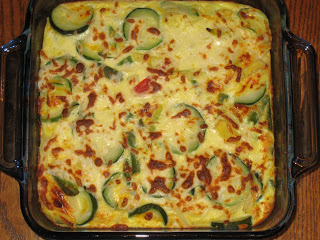 I made a new recipe last night. I got it from my SIL Sara. It was my first attempt at a meatless meal this month 🙂 I thought it was great!! And so easy to make. Plus I felt good, like I was eating healthy/doing something good for my body. Meat is about the hardest thing for me to digest, so this was a great meal for me. As expected Justin was so hesitant when he heard that there was no meat in the dinner :p I reassured him there were eggs in it…they are in the meat group :p He is not a huge zucchini fan, so I didn't expect him to love it. But he ate plenty. If I make it again I'll probably cut back on the zucchini (for his sake) and maybe add some broccoli. I did add red and green peppers and green beans this time. And I'd like to try yellow zucchini sometime too, like Sara did. I made a smaller version of the casserole since I knew Justin wouldn't want to eat too many leftovers. And I made a few mods. I'll mention them in the original recipe.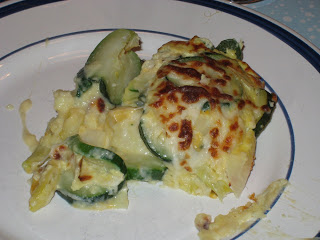 Zucchini Casserole
1 cup Bisquick
1/2 cup chopped onion
1/2 cup grated cheese (I used about a cup of a mix of shredded cheddar and mozzarella)
1/2 teaspoon salt
1/2 cup vegetable oil (I used a mixture of milk and water instead of the oil)
4 eggs
3 cups thinly sliced zucchini (I added some peppers and beans)
Mix all ingredients and pour into greased 9X13 pan. Bake at 350 degrees for 30 minutes. (I then turned the broiler on low for about three minutes to brown the top a little.)
*I used about 3/4 cup Bisquick, 2 eggs, 1/2 cup milk, 1/4 cup water and 1 cup cheese.
*I used a 9″ square pan.
*I turned up the temp towards the end because it wasn't quite setting in the middle.
*I sprinkled cheese on top and put it under the broiler for a few minutes at the end…made it nice and brown on top.