This post may contain affiliate links which won't change your price but will share some commission.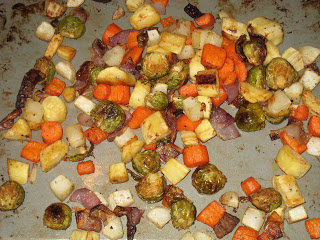 I tried another recipe from my SIL Shannon yesterday. It's originally from Cooking Light. We have kind of mixed reviews about it. I thought it was great!! And it's more just an idea than a recipe to me. You can use any kind of veggie and any kind of pesto. So I'm sure I'll try it again and adjust things more to our liking. Justin wasn't too crazy about it. But part of that was because I used some homemade parsley pesto, which he didn't care for. He might have liked it better if I had used spinach, basil or pea pesto (he likes all of those). Also, most of the veggies were new to us. It usually takes Justin a few tries to get used to a new veggie. This was my first time trying parsnips. I thought they were great!! So sweet. Yum. Justin picked most of them out. I used one turnip. Neither of us were crazy about it. It had too much of a bite for me. This was my first experience with brussel sprouts too. I thought they were pretty good. Justin didn't mind them. I want to try roasting them on their own sometime to really taste them well. I left out the shallots because I didn't have any. I served this over some spinach ribbons…new Eden Organic pasta that I got yesterday. That was really good too.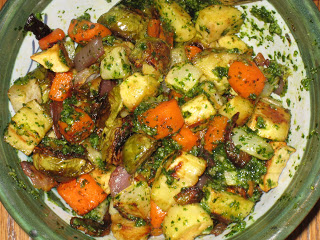 I made some leftover pork for Justin to go with this. So it was more of a side dish for him. I added a few beans to mine and had it as a main dish. And we grated fresh parmesan over top. I didn't make the full recipe. That would be a lot. And I used pesto from our freezer. I didn't try the pesto recipe that comes with this.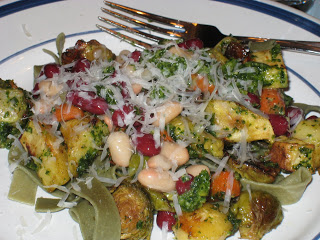 Roasted Root Vegetables with Pesto
3 cups (1 lb.) carrot, sliced 1″ thick
3 cups (1 lb.) parsnip, sliced also
3 cups peeled, cubed turnip
3 cups (1 lb.) trimmed, halved Brussel sprouts
2 shallots, peeled and quartered
1 large onion, cut into 8 wedges (I used organic red onion)
cooking spray
1/2 tsp. salt
1/4 tsp. pepper
Pesto:
2 cups basil
1/4 cup grated fresh parmesan-reggiano
1/4 cup chopped walnuts, toasted
4 tsp. olive oil
2 Tbsp. water
1 Tbsp. lemon juice
1/2 tsp. salt
1 garlic clove, pressed
Process in food processor or blender.
Veggies:
Heat oven to 425 degrees. Coat baking sheet with cooking spray. Place veggies on baking sheet. Coat with cooking spray. Sprinkle with salt and pepper. Toss. Bake 1 hour, or until browned. Transfer to a bowl and toss with pesto.
*My veggies cooked faster than 1 hour. I had to turn the heat down a bit so that they weren't done before the rest of dinner. I'd say 45 min. is plenty at that temperature, maybe even less. I tossed them a few times during the roasting so that they browned on all sides.