This post may contain affiliate links which won't change your price but will share some commission.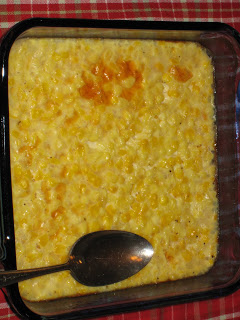 This is another recipe from Justin's mom. Very good! And you can prep it ahead and just put it in the oven when you need to. This photo is sideways too. Not sure what the deal is with Picasa. I'll try to fix them later.
Corn Custard Pudding Casserole
1 pkg. frozen corn, cooked until separated (I just microwaved it for a couple minutes)
1 cup milk
1 Tbsp. margerine, melted (I skipped this)
2 tsp. sugar
1/2 tsp. salt
dash pepper
1 egg, beaten
Heat oven to 350. Beat egg in bowl. Add corn, milk, butter, sugar, salt and pepper. Stir to combine well. Pour into a well greased 1 1/2 qt. casserole. Place in pan of hot water. Bake for 1 1/4 hours.
*I used an 8″ baking dish.
*I totally forgot about the pan of hot water. It still turned out fine 🙂