This post may contain affiliate links which won't change your price but will share some commission.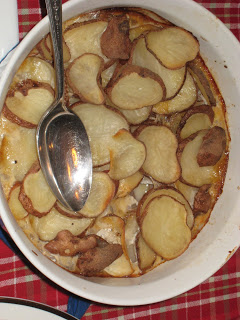 We had the Voogt Christmas party yesterday. I'll post some of the recipes from the food I made. I'll start with the potatoes. I got this recipe from Justin's mom. Not sure why the picture is sideways :p
Scalloped Potatoes
4 medium potatoes, peeled and thinly sliced (I used red potatoes with the skins on)
salt and pepper
1 Tbsp. diced onion
2 1/2 Tbsp. butter
1 1/4 cups milked, warmed
Heat oven to 350. Arrange potatoes in layers in greased 1 1/2 qt. round casserole. Sprinkle each layer with salt, pepper and onion. And dot with butter. Pour hot milk over top. Bake covered 1/2 hour. Bake uncovered 1 hour, until tender.