This post may contain affiliate links which won't change your price but will share some commission.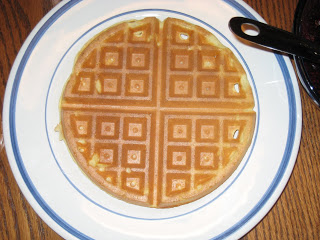 Last night I made waffles for Justin for dinner. I got this recipe from my mom a long time ago. It works really well in our waffle iron. Each time I make them it seems like I get a different amount of waffles out of x amount of batter. I did a half recipe yesterday and got about 3 waffles. My usual estimate is 1/4 recipe = 1 waffle/1 recipe = 4 waffles. But I guess you could get more than 4 out of a whole recipe. Just depends on your waffle iron and how much batter you use. I made fruit topping from blueberries (from the farmer's market) and raspberries (from our garden). The second pictures looks like it's upside down because I was taking a picture across the table at Justin's plate 🙂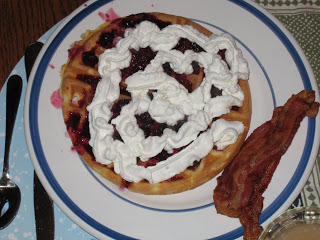 Belgian Waffles
4 eggs, separated
1 cup milk
1 cup whole wheat flour
2 Tbsp. melted butter
1/2 tsp. salt
1/2 tsp. vanilla
In large bowl beat egg yolks until lemon colored. Add milk, flour, butter, salt and vanilla. Blend until mixed. In separate bowl beat egg whites until still peaks form. Fold into yolk batter. Pour onto greased waffle griddle and cook until browned on both sides. Makes 4-6 waffles.