This post may contain affiliate links which won't change your price but will share some commission.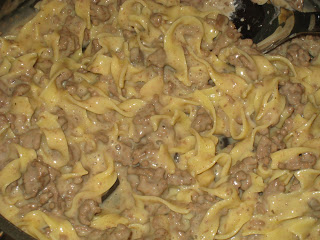 Last night I made an old classic for Justin – beef stroganoff. I think this is a Kraft recipe. I've made it many times. Very quick and easy. This is a skillet dish, so it's all in one pot. I make a veggie to go with it. I also have a beef stroganoff recipe from Justin's mom. I've only made it once since it takes a long time to make. I'll post that too. It's better than the quickie version, but I don't have time most days to cook something for several hours. Justin's mom doesn't have exact measurements for all of the ingredients…just do what seems right 🙂 I think I added more onion than the recipe says too. There is also some stuff crossed out on the recipe…I think the crossed out stuff would be better than the way she made it. I'll add that in parenthesis.
1 lb. ground beef (I only use 1/2 lb. and think it's plenty)
3 cups egg noodles (dry)
1/2 lb. (8 oz.) Velveeta, cut up (I just slice it)
1 can cream of mushroom soup
2 cups water
pepper
Brown meat in skillet. Drain. Add water. Bring to boil. Add noodles, stir. Reduce heat, simmer 8-10 min. Add Velveeta, soup and pepper. Cook until cheese is melted.
round steak, cut in small cubes (any beef or stew meat will work)
1/3 can mushroom soup (mushrooms, sliced – original ingredient)
1/8 onion, chopped
butter
flour
salt
pepper
1/2 cup milk
1/2 cup beef
bouillon
(any form of beef broth)
(
Saute mushrooms and onion in butter
.) In (
separate
) skillet melt butter. Coat meat with flour and brown meat and onion in skillet. Add salt, mushroom soup and broth. Simmer, stirring
occasionally
, about 2 hours. (
Add mushrooms and onion.
) (
Serve over noodles
.) Serve over mashed potatoes.