This post may contain affiliate links which won't change your price but will share some commission.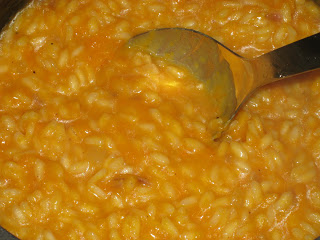 Yesterday's dinner was meatless and a new grain! And it was so so so good!!! This was my first attempt at making risotto…my first time eating real risotto. Wow! So creamy and yummy. I had to keep myself from eating too much :p Justin really liked it too. He would prefer it as a side dish instead of the main dish, but he didn't have any complaints 🙂 I've always been afraid to make risotto…sounded tricky. But it wasn't hard at all. It does require constant attention. But other than that it's pretty easy. And it's actually fairly quick. Only takes about 20 min. I used a Rachel Ray recipe. Her recipe is almost identical to most of the recipes I looked up. But I chose hers because is uses frozen pureed squash instead of fresh. And I have plenty of squash in the freezer 🙂 I didn't use wine since I didn't have any…I just used extra chicken broth. I used organic red onion. I didn't add the sage. And I only made a half batch. I may have to change some meal plans this week so I can have the leftovers for dinner one night 🙂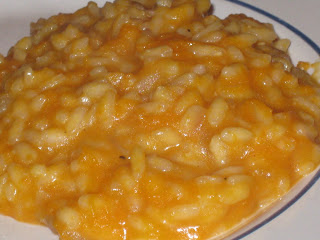 Butternut Squash Risotto
One 32-ounce container (4 cups) chicken broth (I'm sure veggie broth would work to make it totally vegetarian)
2 Tbsp. EVOO
1 small onion, finely chopped
2 cloves garlic, grated or finely chopped
2 cups arborio rice
1 cup dry white wine
One 12-ounce box frozen butternut squash puree, thawed (I used cooked squash from our garden…I didn't measure it…just added what looked/tasted right)
Nutmeg
Salt and pepper
1 cup grated parmigiano-reggiano cheese
2 tablespoons butter, cut into small pieces
10 leaves fresh sage, slivered
In a large saucepan, bring the chicken broth and 1 cup water to a boil over medium-high heat, then turn the heat to low.
In a large skillet (I used a large saucepan), heat the EVOO , 2 turns of the pan, over medium-high heat. When the oil is rippling, add the onion and garlic and cook, stirring occasionally, until softened, 2 minutes. Add the rice and toast for 3 minutes. Stir in the wine and cook, stirring occasionally, until mostly evaporated, 2 to 3 minutes.3. Add 2 ladlefuls of the warm chicken broth to the rice and stir until the liquid evaporates. Repeat with the remaining broth, cooking the risotto until creamy, about 18 minutes. During the last 3 minutes of cooking, stir in the squash; season with nutmeg, salt and pepper. During the last minute of cooking, stir in the cheese and butter. Top with the sage.