When it comes to great recipes I have a theory – most of them are created by accident. And this nutrient-dense butterscotch milkshake is no exception!
As an Analytical Eater I get in food ruts very quickly. Just ask my family. But one day as I was making lunch I was just sick of my usuals. Instead I was in the mood for something cold and creamy. Ice cream sounded awfully good. Back in high school I would have just eaten ice cream and called it a meal. But being a Nutritional Therapy Practitioner I knew I also needed nourishment.
What I really wanted was something chocolate. But my body does not tolerate cocoa well. So I tried to create a carob smoothie, hoping my odd concoction of various forms of protein and frozen fruit would satisfy my craving.
I wasn't sure it would taste good at all. But to my surprise the end result was the most amazing smoothie that tastes like butterscotch!
My kids all insisted that they had to try it. I only ended up with half of my smoothie. But my protein-packed butterscotch "milkshake" was born.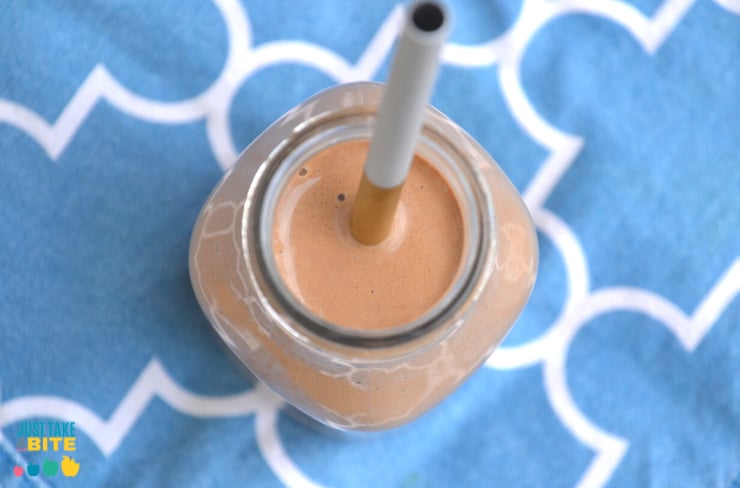 Healthy Drink for Kids
Nutrient-dense drinks are one of my favorite tools for nourishing under-eaters and selective eaters. Smoothies loaded with desiccated liver and collagen (use code TAKE10 for 10% off) literally saved my daughter's life! Read more about her story HERE and HERE!
So I'm always trying to create new healthy drinks for kids.
When I say healthy, I mean a drink has a balance of complete protein, complex carbohydrates (think fiber!), and unprocessed fats. This combination is essential for blood sugar reguatlion in kids.
But it also has to taste good. I've definitely made my share of smoothies that were loaded with nutrition but were not very palatable. Think way too many greens. Kids need the right balance of nutrition and flavor.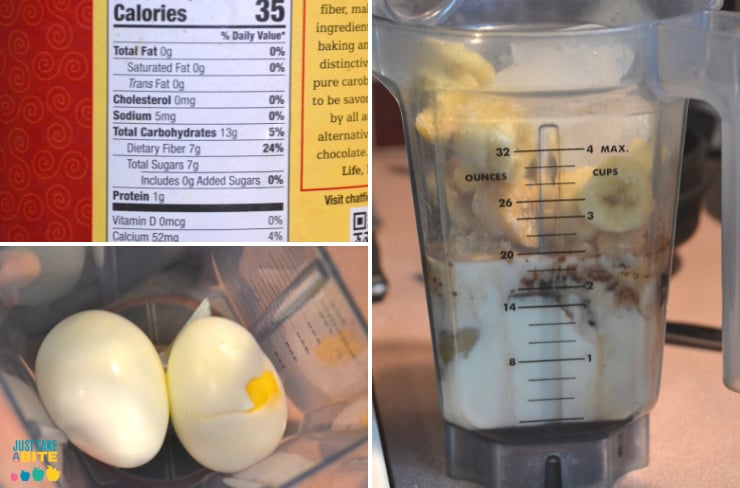 Easy Protein for Picky Eaters
Hands down the most difficult macronutrient to get selective eaters to consume is protein. This is a top concern for many of my clients – especially when it comes to snacks and breakfast.
This easy butterscotch milkshake is your solution!
The recipe starts with hard-boiled eggs. Yes, you read that correctly. It sounds crazy, but you can't taste them. The eggs add thickness in addition to nutrients like protein, B Vitamins, and healthy fat.
The second ingredient is sunbutter (or any nut butter you like). More protein and healthy fat!
The next two ingredients are whole milk and collagen. Even more protein! This breakfast butterscotch milkshake is a protein powerhouse. Using two eggs, two tablespoons of sunbutter, three fourths cup of milk, and two scoops of collagen gives you 44 grams of protein!
It serves two-to-four kids. So each child gets 11 to 22 grams of protein in one drink!
Adults, you can drink this as well. Even if you only drink half of this you're still getting a great start to your protein goals for the day. And you can always add an extra scoop of collagen or an extra egg to boost it even more.
Dairy-Free Butterscotch
Don't feel disappointed if your child is dairy-free. This butterscotch milkshake can definitely be made dairy-free! Simply use your favorite milk substitute (like homemade rice milk) in place of the whole milk.
If you don't have any milk substitutes simply use water. It will still taste great. And there will still be 38 grams of protein!
Delicious dairy-free butterscotch is possible.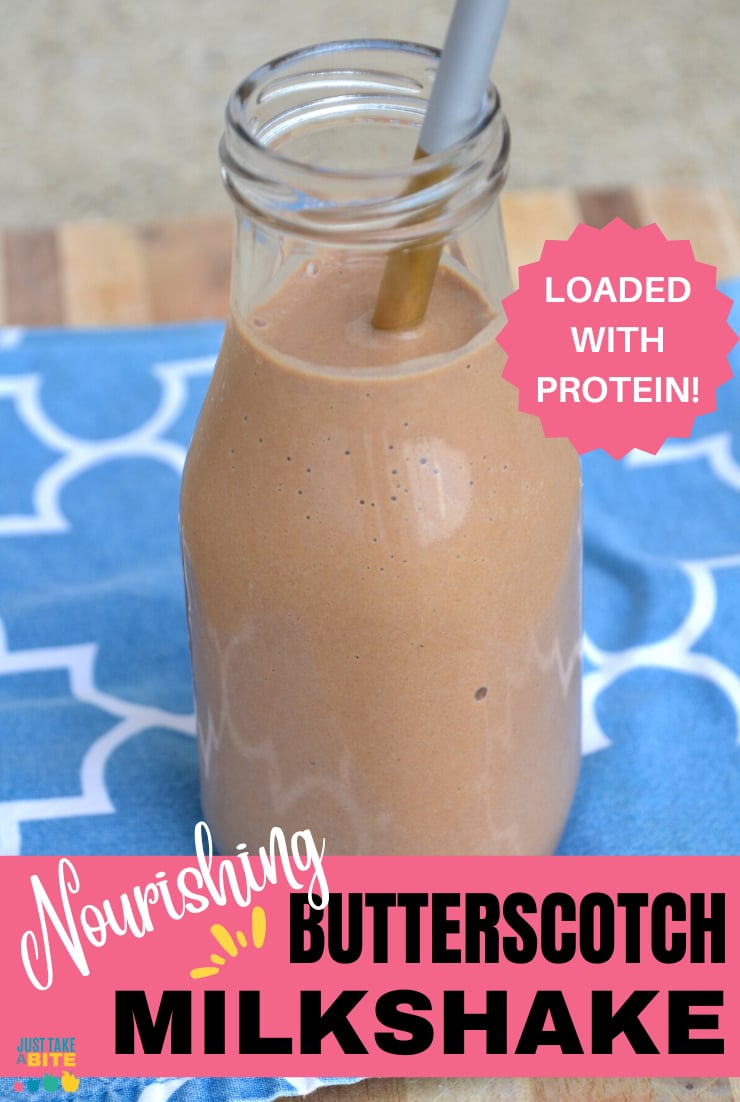 Breakfast Butterscotch Milkshake Recipe
Many kids struggle with breakfast. It can be a sign of low blood sugar, low stomach acid, or even nervous system dysregulation. Whatever the cause, serving an easy-to-consume, highly palatable breakfast can help things turn around.
The healthy dose of protein will help a child with low blood sugar. The easily absorbed nutrients will help a child with low stomach acid. And comforting food will help a child with nervous system dysregulation. You really can't go wrong with a butterscotch milkshake for breakfast.
It can be a stand-alone breakfast. Or you can serve it alongside other nutrient-dense options like:
breakfast cupcakes (yes, cupcakes and milkshakes for breakfast!)
sourdough toast with butter and smashed avocado
baked oatmeal
Nutrient-Dense Butterscotch Smoothie
Whether you call it a milkshake or a smoothie, the taste and the nutrition is the same. If you have a selective eater, butterscotch milkshake probably sounds more appealing.
My kids like it really thick. By adding extra ice it gets so thick it's almost like ice cream! Sometimes I even serve it with a spoon.
While I do love serving smoothies with breakfast, my kids love this nourishing drink any time of day. Sometimes we have it for a snack. Sometimes we have it with lunch. The other day I even made a batch for the whole family to go with our Friday breakfast-for-dinner meal.
No matter when you serve this nutrient-dense butterscotch smoothie, it's a kid-pleasing way to nourish your child!
Do you ever serve milkshakes for breakfast?!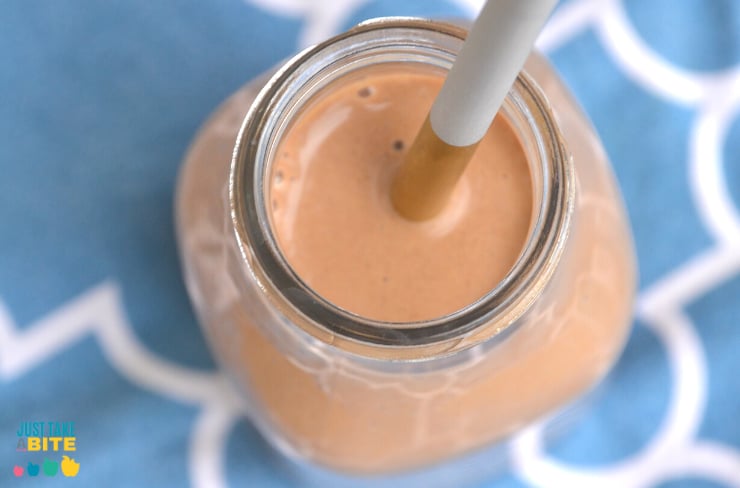 Butterscotch Milkshake
Ingredients
2-3

hard-boiled eggs

2-3

Tbsp.

sunbutter

or any nut butter

3/4

cup

whole milk

or milk substitute or water

2

Tbsp.

collagen

1 1/2

Tbsp.

carob powder

3

Tbsp.

maple syrup

1/4 - 1/2

tsp.

Real Salt

1 1/2

cups

frozen, sliced bananas

1/2 - 1

cup

ice
Instructions
Blend all ingredients in a high-power blender until smooth. The milkshake will be thick.

Add more ice if desired for extra thickness.