This post may contain affiliate links which won't change your price but will share some commission.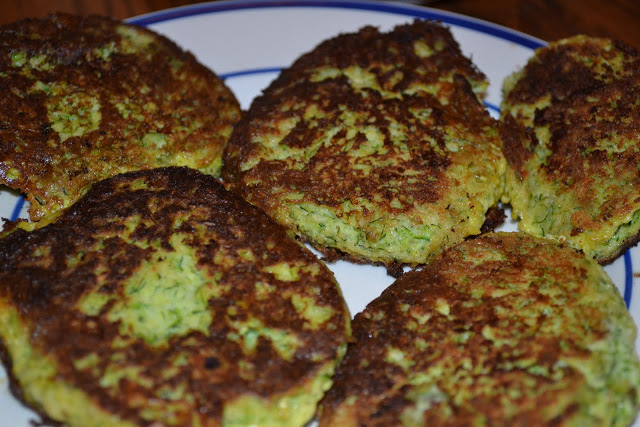 Everyone is posting zucchini recipes these days. And everyone is looking for ways to use zucchini right now…myself included. I recently saw a post on A Mom On A Mission for Zucchini Cakes. Looked easy and GAPS legal. I tried them last night. YUM!! I love them. Justin liked them too. As I expected Rebecca managed the one bite she was forced to try…too stringy for her 😛  No they don't really taste stringy. She just has issues with it. These are super easy to make and so healthy. They are packed full of zucchini and eggs. Plus I fried them in lard…good way to get more healthy animal fat in my diet. I hope to make these again soon. They are a great snack to have on hand for me. And they would even work as a bread substitute. They would be great topped with pesto or spaghetti sauce. Very versatile. I used almond flour since I'm sensitive to coconut flour. So I increased the flour amount (coconut flour is much more absorbent than almond). Still worked great. I only did about 1/3 of a recipe and got 5 cakes out of it. 3 cups of drained zucchini takes a lot of zucchini 😛  I got about 1 cup from a few small zucchinis. I'll post the recipe the way I made it. We used this as a side dish with ham and egg muffins. You could easily eat it as a main dish. It's got protein, fat and veggies. I had the leftovers cold for breakfast today. So good!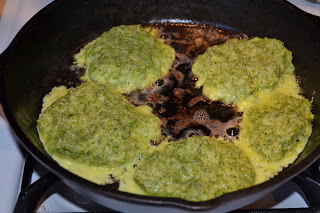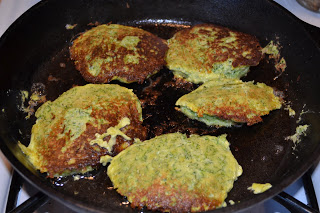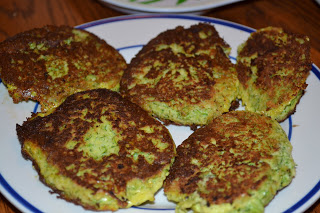 Zucchini Cakes
~ 4-5 cakes
1 cup zucchini, shredded with water squeezed out
1 egg
1/4 – 1/3 cup almond flour (or 1/8 cup coconut flour)
Seasoning to taste (I used sea salt and garlic powder.)
Oil for frying (I used lard.)
Shred/grate zucchini (I used a microplane and grated it into a strainer). Squeeze with hands to get out as much liquid as possible until you have 1 cup of packed zucchini. Mix zucchini with remaining ingredients (adjust flour amount get the mixture thick enough). Heat oil in pan (I used a cast iron skillet). Scoop a glob of mixture out of bowl and flatten in pan. Repeat until mixture is gone. Fry until golden on each side. My mixture was quite moist, but they still fried up very nicely. The egg sets when they are fried.