This post may contain affiliate links which won't change your price but will share some commission.
First full week of September. Time for fall activities again! I'm so excited that Kindermusik starts this week. And we'll be starting "school" with Rebecca. It'll be another busy week for sure.
Last week was kind of crazy. We started the week with our ride home from WI that ended in a rocky, puke-filled boat ride (poor Rebecca) and a late, late night. The rest of the week we didn't go many places and tried to get back on track. And we sadly had to cancel our trip to Michigan's Adventure b/c the forecast was so bad. Of course it ended up being a very nice day and it probably would have been a great day to go. Maybe next year. Instead we did some shopping. It's rare that we shop as a family, so it was a nice treat. Rebecca got to pick out her "back to school" outfit and play on the treehouse play area at the mall. And Abram got to spend a little time with Daddy yesterday too 🙂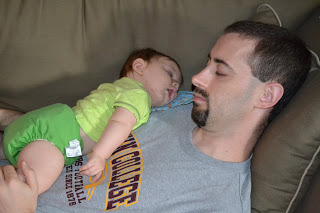 I spent most of the week catching up on food preservation and other misc. things. I canned 7 1/2 pints of salsa and 21 quarts of peaches. I froze beans and summer squash. And I made bread pudding, kefir, roasted beets, made mayo, pesto, peach coffee cake, hot fudge, almond butter and cinnamon cookies. Check out my updated recipe for the cinnamon cookies. They turned out great! And they really are the easiest cookie you'll ever make. Rebecca practically makes them herself.
Plenty going on this week. Today is just church. Maybe we'll see if we can make one last walk to Cone World for the season. Monday we'll be celebrating Labor Day and my grandpa's birthday at their farm. We'll be seeing all of my family and a lot of my extended relatives. We are having a picnic lunch. I'm bringing chips and homemade salsa and whole wheat cinnamon cookies. Tuesday it's back to it…Kindermusik starts! Not sure yet how we're going to work things. Now that Rebecca is in the older class it's on Tuesdays. The same morning as the farmer's market. So I'll have to figure out how to do both. I'm also hoping to start our pre-k homeschool with Rebecca. But not sure much will happen until Wed. I consider Kindermusik as part of her preschool. She learns all kinds of stuff there. Wednesday will be grocery shopping, and Justin has worship team. Nothing planned for the rest of the week yet. But we are considering going to Boulder Ridge Wild Animal Park on Saturday. We'll see what the weather is like.
In the kitchen I'm still trying to keep up with fresh produce. Although most of our garden is winding down. This week I'm hoping to use up some of our tomatoes and can spaghetti sauce (a few batches hopefully). I'd like to make one plain batch…no peppers or onions so I can eat it. I might do another batch of salsa. Depending on what the market has I might freeze some veggies. Like zucchini and peppers. And my SIL might bring us pears from their orchard tomorrow. So we'll see what comes of that/if I need to do any canning with them. I might try another batch of coconut milk ice cream. And I'd like to make a new batch of toothpaste.
Health status…I felt really good last week! It was a nice treat. I was enjoying lots of fresh produce. I was eating salads every day (with tons of EVOO and egg yolks of course). I was active and able to keep up with everything that needed to get done. And I was able to keep up with a fussy little boy that seems to only want to sleep in my arms and wants to eat practically every hour lately! He must be going through a growth spurt. He's an eating machine. Then last night we had beef…a sirloin steak in the crockpot. And today…brick in my gut. I feel miserable. It was our last corn fed steak. Not sure if that made any difference or not. But either way it stinks. Wonder how long it will take to recover from this.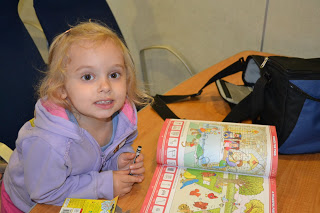 Seeing slow and steady improvements with Rebecca's behavior. And she's very excited about school 🙂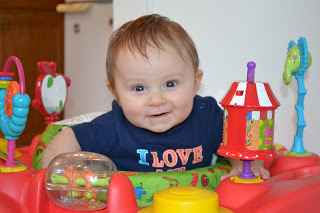 Abram is growing like a weed and eating like crazy. He's still teething pretty badly…but no signs of teeth yet. I think he's getting pretty close to rolling over too. And possibly this week we'll make our first attempt at a hair cut. It's just getting a bit out of control. It covers his ears, and he has a little tail in back 😛 If he was a girl I'd already be putting in pig tails. My baby is growing up too fast!
On to the menu. Last week I was looking through some old recipes on my blog. And found some that sounded good and that we haven't had in a while. Oddly enough my menu ended up being largely meatless. Totally unintentionally. But maybe it will help me out this week to get back on track. Those were just the recipes that sounded good. And I'll be making another big batch of chicken stock today (using bones from a whole chicken and chicken feet). That should help me out this week too. Lots of broth for me! Here's what's on the menu.
————————–
S (prep lunch, church, make broth, chop veggies)
B – green smoothie w/ grain free granola (me), peach coffee cake, fruit (Justin)
L – roast chicken in cp, baked potatoes, peas (oops…turned the crockpot on low instead of high…was not done in time) leftover roast beef, veggies, baked potatoes
D – BLAT salad, bacon sandwiches, chocolate milkshakes roasted chicken, peas, cheesy garlic toast
M (strain/freeze broth, can salsa, Labor Day, family party)
B – broth, green smoothie w/ grain free granola (me), yogurt, peach, granola parfait (Justin)
L – on the farm – hamburgers, hot dogs, beans, chips w/ salsa, cookies, misc.
D – grilled pizza w/ chicken, bacon, peppers, BLAT salad
T (KM, FM, put away laundry)
B – chicken veggie soup (me), hard boiled egg, toast (Justin)
D – eggplant melts w/ chicken and tomato sauce/pesto, corn pudding, roasted beet salad beans OR beef and veggie stir fry (might have some leftovers to use up)


W (chop veggies, Meijer, make/can spaghetti sauce, WT, prep smoothies, soak lentils, make kefir)
B – chx broth with chx and avocado (me), bacon egg bowl, toast (Justin)
D – spaghetti, corn pudding, roasted brussels sprouts (Justin), fried eggplant w/ pesto, egg salad (me)
Th (prep green smoothies, make/can pearsauce, cook lentils, park, prep kefir smoothies, chop veggies)
B – kefir smoothie, sd english muffin, banana (Justin), chx broth w/ pesto, avocado and lentils (me)
D – lentil burgers, modified carrot souffle, beans, french fries
F (clean, make/can spaghetti sauce, bake apple crisp)
B – chx broth w/ avocado and lentils (me), kefir smoothie, toast w/ pb (Justin)
D – zucchini waffles (Justin), zucchini cakes (me), blueberry sausage links (locally made), strawberry topping, crispy nuts, pearsauce
S (laundry, prep green smoothies, prep picnic lunch, make pesto, bake muffins, make toothpaste, prep walnuts, BRWAP, make ice cream, soak beans)
B – zucchini waffles (Justin), blueberry sausage, avocado (me)
D – pumpkin soup, gf pumpkin muffins