This post may contain affiliate links which won't change your price but will share some commission.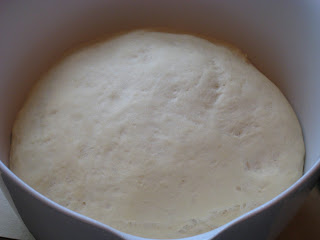 We grilled pizza for the first time last night. It was awesome!!! And quite easy…although a little time consuming since we couldn't fit them all on the grill at once. I got the recipe from
A Good Appetite
. The dough was super easy to make and so yummy. We made 4 pizzas: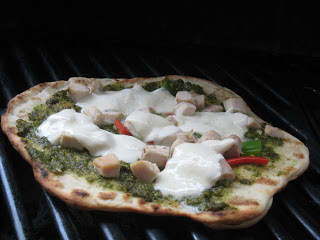 ~ pesto, chicken, peppers and mozzarella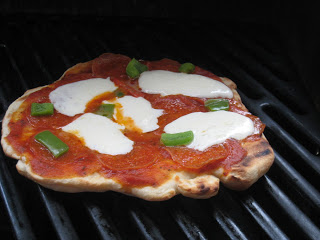 ~ tomato sauce, pepperoni, peppers and mozzarella
~ 1/2 pesto, chicken, peppers, mozzarella; 1/2 tomato sauce, pepperoni, peppers, mozzarella
~ 1/2 tomato sauce, basil, mozzarella; 1/2 tomato sauce, basil, thinly sliced zucchini, peppers, roasted beets, mozzarella
They were all very good. And there is plenty leftover for another meal. We'll definitely be making pizza on the grill again. I didn't end up making a dessert pizza, but I might still try that sometime.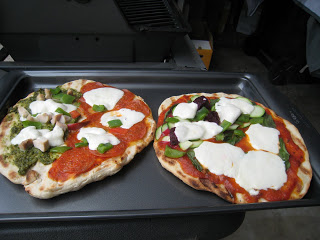 Grilled Pizza
Pizza Dough
1 cup warm water (110 to 115 F)
2 1/2 tsp. active dry yeast
1/2 tsp. sugar
4 Tbsp. olive oil
3 1/4 cups all-purpose flour, plus more if needed
2 tsp. kosher salt
Combine the water, yeast & sugar in a bowl & stir until mixed. Let sit 5 minutes until it gets foamy. Stir in 3 tablespoons of the olive oil. Mix the flour & salt together in a large bowl. Add the yeast mixture & stir until the dough forms a ball. Turn out onto a floured surface & knead until smooth & elastic, about 5 minutes. The dough should be slightly sticky, not dry. If more flour is needed, add it in 1 tablespoon at a time.Coat the inside of a large bowl with the remaining 1 tablespoon of olive oil. Put the dough in the bowl & turn to coat with oil. Cover & let rise until doubled about 1 hour.
Enough for 4 ten-inch pizzas
Making The Pizzas
Prepare your toppings. Heat the grill to about 400 F. Cut four pieces of aluminum foil about 12″ x 12″. Spray the foil with non-spray or olive oil. Divide the pizza dough into four pieces. Stretch each piece of dough out to about a 10″ circle on the prepared pieces of foil.
Coat the grill grate with vegetable oil.
Pick up one piece of dough on foil & flip it onto the grill dough side down. Then peel away the foil. Repeat for as many pizzas as you can fit on the grill. Close the lid & let cook 1 – 2 minutes, the top of the dough should be bubbly & the bottom should be grill-marked.
Take the dough off the grill & invert so the grilled side is facing up.
Add the toppings (its best to go light for this type of pizza) and return the pizza to the grill. Close the grill lid & let the pizza cook until the bottom is browned & the cheese is melted, about 5 minutes.