This post may contain affiliate links which won't change your price but will share some commission.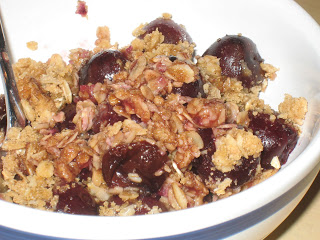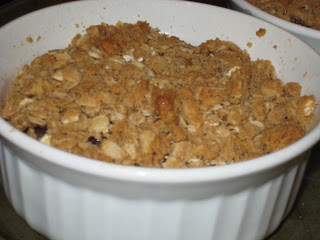 I wanted to use up my last few cherries, so I made a cherry crisp yesterday. I got the recipe from
Two Peas and Their Pod
. She used ranier cherries. I just had sweet cherries. It was really good! But not something I'd want to eat all the time. It was very cherry 😛 I bet it would be good with some tart cherries added. I made 2 small crisps. Justin ate half of one. I ate the other one…the whole thing :)…after a soccer game…I needed to make up for lost calories. Fresh cherry crisp with french vanilla Hudsonville ice cream…mmm:)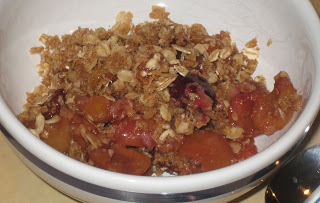 crisp with ranier cherries
*Edited 6/27/10 – I made this again last week. But I used sliced ranier cherries this time and  a few black cherries. So good! It's better with the ranier cherries added. I also used whole wheat flour instead of AP flour. Worked fine. I also made this a larger crisp in an 8×8 pan. I modified the recipe accordingly to use about 2 1/2 cups cherries.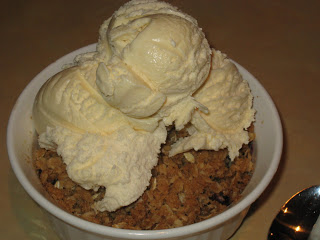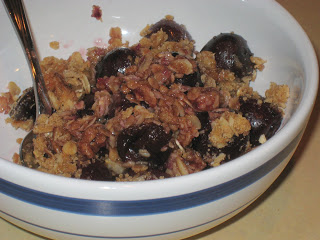 Cherry Crisp
Makes 3 individual crisps in small ramekins or 2 crisps in small casserole dishes. You can double or triple it for one large crisp or more individual ones.
1 1/2 cups Rainer cherries, pitted and halved
2 Tbsp. sugar
1 Tbsp. flour
3/4 cup old fashioned oats
1/2 tsp. cinnamon
Pinch of salt
2 Tbsp. flour (whole wheat works fine)
1/2 cup brown sugar (organic brown evaporated cane sugar)
2 Tbsp. cold butter-cut in small pieces
Preheat the oven to 350 degrees. Spray ramekins with cooking spray. In a small bowl sprinkle the cherries with the 2 Tbsp. of sugar and flour. Mix well. Let sit while you make the oat topping. In a small bowl add the oats, cinnamon, salt, flour, and brown sugar. Stir. Add the butter to the oat mix. Mix with your hands until you have a crumbly mixture. Pour sugared cherries into the sprayed ramekins. Make sure each one is even. Add the oat topping. Place ramekins on a baking sheet and bake for 20-30 minutes (or 30-40 for an 8×8 crisp), until they are bubbling. Cool for a minute and serve. (We used french vanilla ice cream on top).