This post may contain affiliate links which won't change your price but will share some commission.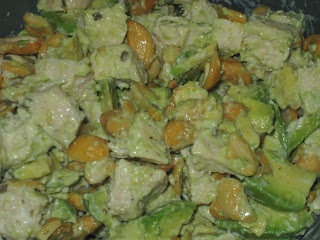 I tried another chicken salad recipe last night. I came across it a bit ago on All Recipes and it sounded really good…chicken, avocado, cashews…what's not to like? 🙂 It was super easy and so yummy!!! (Plus it was filling and full of healthy fat for me:) All 3 of us loved it. In Rebecca's words, "mmm…mun dee." I didn't actually measure anything when I made it. I just eyeballed everything and tasted as I went. I'm not a huge ranch dressing fan, so I did half dressing and half mayonnaise. This recipe is for a sandwich. I just served mine over a bed of spinach and tomatoes. Justin had his on a bun (homemade). Maybe sometime I'll try it with the bacon and swiss. I didn't make a full recipe. What I made was enough for our dinner and Justin's lunch tomorrow.
**Recipe update 6/17/11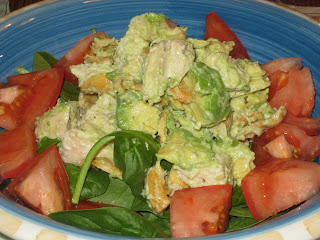 Cashew Avocado Chicken Salad
4 cooked, boneless chicken breast halves, shredded (I used 1 large breast, roasted w/ EVOO, salt and pepper, then cubed)
1/3 cup
homemade mayo
or combo of mayo and sour cream
1 1/2 Tbsp. chopped fresh dill or 1 tsp. dill weed
1 cup cashews
1 avocado – peeled, pitted and diced
salt and pepper to taste
12 slices bacon
6 slices Swiss cheese
12 slices bread, toasted (serve it on spinach or GF bread to make it GF)
In a large bowl, mix the cooked chicken, mayo, dill, cashews, and avocado. Season with salt and pepper. Cover, and chill in the refrigerator at least 30 minutes. (This is where I stopped. I chilled it for 1 hour and served it.)
Place bacon in a large, deep skillet. Cook over medium high heat until evenly brown; drain.
Spread even amounts of the chicken mixture on 6 slices of toasted bread. Top each with 2 slices bacon and 1 slice Swiss cheese. Top with remaining bread slices to make sandwiches.
**Edited 3/4/10
We made the full sandwich version last night on homemade whole wheat bread with bacon and muenster cheese. This is soooooo good!