This post may contain affiliate links which won't change your price but will share some commission.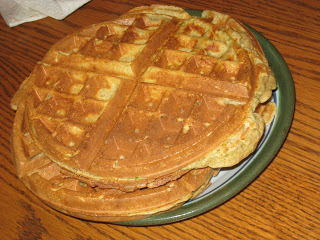 Last week I made blueberry topping (froze most of it). So I wanted to make waffles for a meal to try it out. And then I thought, I wonder if I could put zucchini in waffles?? So I did a quick search. Sure enough, I found some zucchini waffle recipes.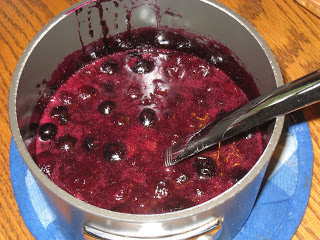 I found one that uses whole wheat flour too. They turned out great!!! And a little healthier than some waffles. Plus they were very easy to make.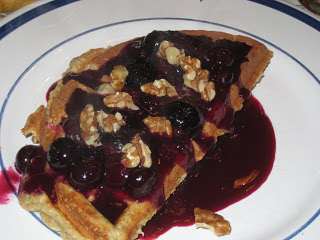 I made a half batch and got 3 waffles out of it (the large belgian waffle style). I had a little overflow. I probably could have gotten 3 1/2 out of it. So a full batch would make about 7 large waffles. The next time I make them I'll probably do a full batch and freeze some. Whole wheat zucchini waffles, homemade blueberry topping, walnuts and readi-whip (I don't like the stuff, but Justin does)…yum!!! And some sliced fresh peaches and homemade blueberry buckle on the side. What a treat.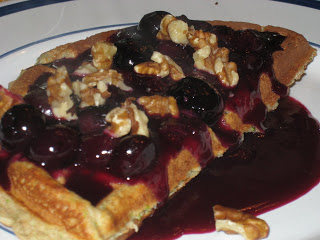 Zucchini Waffles
2 cups nonfat milk (I used 1%)
3 eggs
1 zucchini, grated
2 cups white whole wheat flour (try King Aurthur's brand) (I just used regular whole wheat flour)
2 teaspoons baking powder
1/4 teaspoon salt
Beat first 3 ingredients together, with a wire whisk or a fork, until well blended. Add dry ingredients and mix gently until well combined (but don't overmix). Cook according to your waffle-makers instructions.