This post may contain affiliate links which won't change your price but will share some commission.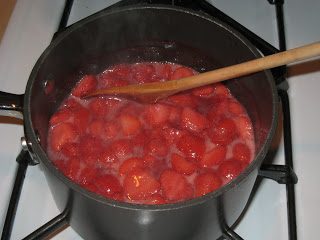 With my last quart of strawberries I made a batch of strawberry topping this morning. The recipe is from Justin's mom…just a basic fruit topping recipe…for pancakes, waffles, ice cream, etc. You could use it with any kind of fruit. Maybe I'll make some blueberry topping to freeze when I get more blueberries. This is very good and very simple. Although it is on the sweet side. I'll use less sugar next time. And you could probably add a little lemon juice to brighten up the flavor a bit.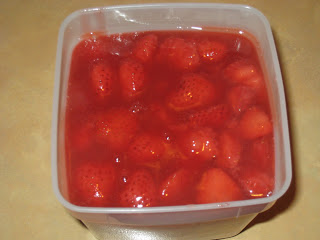 Strawberry (fruit) Topping
1/3 cup organic cane sugar, sucanat or coconut sugar (adjust to taste)
2 Tbsp. all purpose flour OR 1 Tbsp. tapioca flour OR 2 Tbsp. arrowroot
1/2 cup water
3 cups strawberries, chopped (or any fresh fruit)
Mix sugar and flour in medium sauce pan. Add water. Mix. Turn on heat. Stir in strawberries. Cook over medium heat, stirring, until mixture thickens and boils. Boil and stir 1 minute.
Serve on pancakes, waffles, shortcake or ice cream. You can also mix it into plain yogurt.
**You can also just mix fresh strawberries and honey (to taste). Let them sit until the strawberries start to soften. Then mash with a fork or potato masher. No cooking required. You can heat the topping before serving if desired.