This post may contain affiliate links which won't change your price but will share some commission.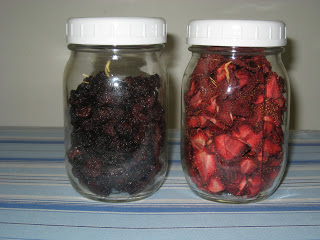 I picked up a bunch of strawberries and cherries at the farmer's market this week and tried my deyhydrator. I never knew drying your own food was so easy! I have a basic dehydrator, so it takes a little longer than some. But really not too bad. The cherries took 20-48 hours. The strawberries took 10-24 hours. Just depends how thick you slice them. Now we have a jar of each dried fruit. They are so yummy!!! A great snack. We will be taking some on our vacation for sure. I'm excited to try drying other fruits…blueberries, apples, pineapple, bananas, peaches,…
I will try drying a few herbs after vacation. And sometime soon I'd like to try making beef jerky with some of our Voogt beef.