This post may contain affiliate links which won't change your price but will share some commission.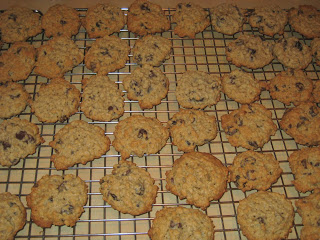 I made a batch of oatmeal raisin chocolate chip cookies this morning. I got the recipe from Justin's mom. Her recipe uses raisins and nuts. I did raisins and chocolate chips. Amazingly Justin said he's never had those two together! His mom always made them with just raisins or just chocolate chips…but never together. That's how we always had oatmeal cookies. And the way I love them 🙂 This recipe made quite a few cookies…around 50. Even though we haven't tasted them yet I'm sure they're good 🙂 I think I've made them once before, but I can't remember. These will make a handy snack on our vacation.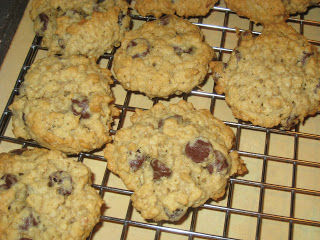 Famous Oatmeal Cookies with Raisins and Chocolate Chips
3/4 cup shortening
2/3 cup brown sugar
1/4 cup white sugar
1/4 cup water
1 egg
1 tsp. vanilla
1 cup flour
1 tsp. salt
1/2 tsp. baking soda
3 cups quick oats
1/2 cup nuts (optional)
1/2 cup chocolate chips (optional)
1/2 cup raisins (optional)
Beat shortening, sugars, egg, water and vanilla until creamy. In separate bowl sift flour, salt and soda. Add to creamed mixture and blend well. Stir in oats, nuts, chips and raisins. Drop by teaspoonfuls (I used a small cookie scoop) onto greased (I used silpat and parchment paper) cookie sheets. Flatten with fork. Bake at 350 degrees for 12-15 min (mine took about 14 min.).