This post may contain affiliate links which won't change your price but will share some commission.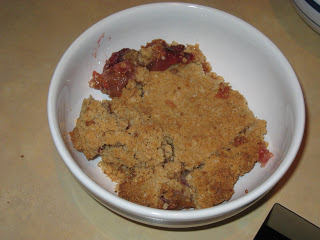 Last night I used up our fresh rhubarb and strawberries in a crisp. I got this recipe on All Recipes a long time ago. I've made it several times. Always very good!! The only change I made was to use a 1/2 cup butter instead of a full cup in the topping. That just seems like way too much to me. And I added strawberries. They pair so well with rhubarb. And add extra sweetness.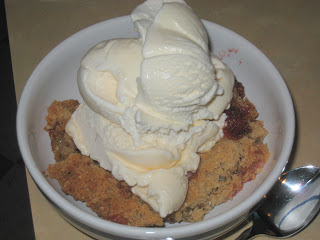 Rhubarb Crunch
3 cups diced rhubarb
(chopped strawberries)
1 cup white sugar
3 Tbsp. all-purpose flour
1 cup packed light brown sugar
1 cup quick cooking oats
1 1/2 cups all-purpose flour
1 cup butter
Preheat oven to 375 degrees F (190 degrees C). Lightly grease a 9×13 inch baking dish.
In a large mixing bowl combine rhubarb (and strawberries), white sugar, and 3 tablespoons flour. Stir well and spread evenly into baking dish. Set aside. In a large mixing bowl combine brown sugar, oats, and 1 1/2 cups flour. Stir well then cut in butter or margarine until mixture is crumbly. Sprinkle mixture over rhubarb layer. Bake in preheated oven for 40 minutes. Serve hot or cold.