This post may contain affiliate links which won't change your price but will share some commission.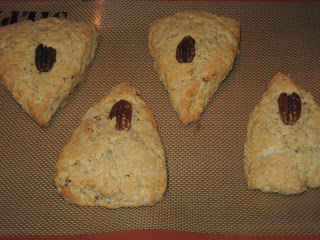 I had some buttermilk to use up, so I made a batch of scones this morning. It's another recipe from Eggs On Sunday. There are quite a few more scone recipes on that blog that I'm anxious to try. These were super easy and very good! I only had a tiny nibble. But I let Justin have one fresh out of the oven for breakfast (they are meant to go with dinner) 🙂 He said they were great! I baked 4 this morning and froze 4 (froze before baking). I'll make the frozen ones later in the week so they are fresh for another meal. These smelled amazing in the oven. I can't wait to have a scone tonight!!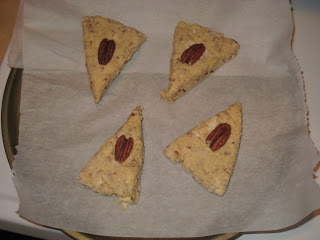 **Looking back at the recipe I wonder if you're supposed to sprinkle the tops with sugar? I just put the 1/3 cup and the 2 Tbsp. in the mix. But I bet the 2 Tbsp. were supposed to be for topping…even though it doesn't say that. I just wrote down the ingredients last night and made them w/o really looking at the directions this morning. So I didn't realize it said 1/3 cup in the mix. Oh well. They're still great. Maybe just a little sweeter 😛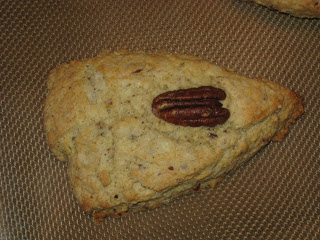 Maple Pecan Scones
2 cups whole wheat flour
1/3 cup + 2 Tbsp. organic cane sugar or sucanat
1 tsp. baking powder
1/2 tsp. baking soda
1/2 tsp. salt
7 Tbsp. chilled unsalted butter, diced
3/4 cup chopped pecans, plus whole pecans for the tops of each scone (preferably soaked and dehydrated)
1/2 cup chilled buttermilk
2 1/2 Tbsp. real maple syrup
1 large egg yolk
1 tsp. vanilla extract
Whisk 2 cups flour, 1/3 cup sugar, baking powder, baking soda, and salt in large bowl. Add butter and rub in with fingertips until coarse meal forms. Mix in chopped pecans. Whisk buttermilk, egg yolk, vanilla extract, and maple syrup in small bowl to blend. Add buttermilk mixture to dry ingredients; stir with fork until dough comes together in moist clumps. Gather dough into ball. Press out dough on lightly floured surface to 3/4-inch thick disk. Cut disk like a pie into 8 wedges. Place each wedge on a cookie sheet covered with parchment paper, spacing evenly apart. Sprinkle with sugar. Press a whole pecan lightly into the top of each scone. (At this point, you can refrigerate the sheet, covered, overnight and bake the next morning if you'd like. Or you can freeze them and thaw/bake them later.)
Preheat oven to 400 degrees F. Bake until scones are crusty on top and tester inserted into center comes out clean, about 15 minutes (or up to 20 minutes if refrigerated). Serve warm or at room temperature.