This post may contain affiliate links which won't change your price but will share some commission.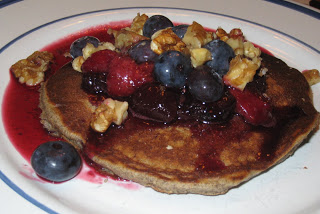 Last night I tried a recipe for buckwheat pancakes. I saw the recipe on Two Peas and Their Pod. It is based on an Ellie Creager recipe…which I actually have in my EC cookbook (I need to look through that soon). I bought buckwheat a while ago when I wanted to try new grains. And I never got around to trying it out. So last night was the first time I've used buckwheat. It's a healthy, hearty, nutty grain. And very yummy!!! The pancakes turned out great!!! We all loved them. Especially Rebecca 🙂 She kept saying "bite" because she wanted more. These were mildly sweet. Hearty and yet light. And they paired well with the fruit. It was also nice that this made a big batch (I got about 14 pancakes out of it). So I froze a bunch in packages of 2. Now Justin will have something healthier for Saturday morning breakfast than the junky frozen waffles and toaster strudles he eats right now (I'm working on cutting those out of his diet :P).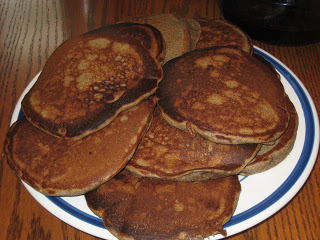 I didn't put blueberries in my pancakes this time. We had a fruit topping made with homemade blueberry syrup, strawberries, cherries, blueberries and a little powdered sugar. I also served them with fresh blueberries (well, frozen, thawed…but local blueberries…same thing for all the fruit in the topping), chopped walnuts and readi-whip (Justin likes this, I don't. In the future I want to make fresh whipped cream for stuff like this. I just didn't have time yesterday). This is definitely a keeper recipe. And a great way to get a variety of grains into our diet. The batter was a little thinner than the pancakes I usually make. These really spread out when I put them on the griddle. Part way through I added a touch more whole wheat flour to the batter. I think I'll do a full cup of whole wheat flour next time to make it a little thicker.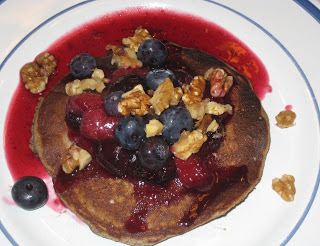 Buckwheat Pancakes (or blueberry pancakes)
1 cup buckwheat flour
3/4 whole wheat flour
1 1/2 tsp. baking powder
1/2 tsp. baking soda
1/4 tsp. salt
1/2 tsp. cinnamon
1 cup buttermilk
3/4 cup milk
1 Tbsp. raw honey
2 eggs
2 Tbsp. organic cane sugar or sucanat
1 Tbsp. coconut oil or melted butter
1 tsp. vanilla extract
1 cup of fresh blueberries
Extra blueberries and fruit for serving (optional)
Maple Syrup
In a large bowl whisk together the flours, baking powder, baking soda, salt, and cinnamon. In another bowl, beat together the buttermilk, milk, honey, eggs, sugar, oil, and vanilla.
Stir the wet ingredients into the dry ingredients, mixing only enough to combine them. Stir in berries.
Preheat a large nonstick griddle. You can use a skillet if you don't have a griddle. Ladle the batter onto the hot griddle or skillet , use about a 1/4 cup batter (I used about a 1/3 cup). Flip the pancake when it is golden brown on the bottom and there are lots of bubbles. Don't flip them too soon. Cook the other side until golden brown. Serve hot with syrup and extra fruit, if you wish!