This post may contain affiliate links which won't change your price but will share some commission.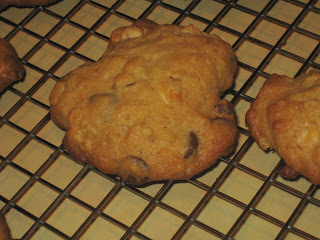 At one of my bridal showers my friend Mandy gave me a cookie cookbook called "The Cook's Encyclopedia of Cookies." I browse through it once in a while to find something new to bake. This morning I made a batch of double chocolate cookies from it. They were super easy to make. And I'm pretty sure they taste great…but none of us has actually tasted them yet 😛 No cookies for breakfast here. So I'll have to update with the true verdict later. As usual the cookies on the bottom rack got pretty dark on the bottom. But Justin actually likes a little burn to his cookies. So he'll love them 🙂 I eyeballed about 1/3 of a bag of each kind of chocolate chips instead of using chocolate chunks.
There are quite a few more recipes that I want to try from this cookbook. I know it's not baking season now that the weather is getting warmer. But hopefully I can try a few here and there. I'm hoping to make shortcakes next week for strawberry shortcake. I've never cared for it, but Justin will love it.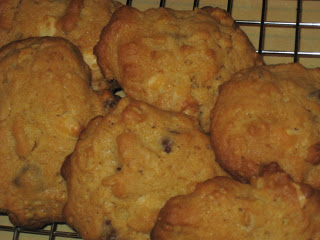 Double Chocolate Cookies
makes 18-20 (I got 24 out of it)
1/2 cup unsalted butter, room temp
3/4 cup packed light brown sugar
1 egg
1 tsp. vanilla
1 1/4 cups self-rising flour
3/4 cups rolled oats
4 oz. semi-sweet chocolate, coarsely chopped
4 oz. white chocolate, coarsely chopped
Heat oven to 375. Lightly grease 2 baking sheets. Cream the butter and sugar until pale and fluffy. Add the egg and vanilla. Beat well. Sift the flour over the mixture and fold in lightly with a metal spoon. Add the oats and chocolate. Stir until evenly mixed.
Place small spoonfulls of the mixture in 18-20 rocky mounds on baking sheets. Leave space for spreading. Bake 15-20 minutes, until beginning to turn pale golden. Cool for 2-3 minutes. Transfer to wire racks to cool completely.