This post may contain affiliate links which won't change your price but will share some commission.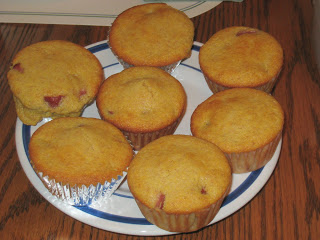 I found a fun recipe on Heavenly Homemakers the other day for corn dog muffins. I just used the idea of the muffins and used my own cornbread recipe. It's basically the exact same thing I use for corn dogs, but in muffin form. I used turkey sausages w/ cheese this time since that's all I had on hand. I cut them into bite size pieces and put them in the batter. I used 2 sausages and got 9 muffins out of them. I made a small loaf of corn bread with the leftover batter. I made these for Justin. He really liked them! He said he thinks they are better than my actual corn dog attempts. Easier to eat and better meat to bread ratio. This will definitely be something I make again. I'm sure it will be a big hit with kids someday 🙂 And they will be handy because I can make a big batch and freeze them. Now I just need to find a decent hot dog.
After a week of misses with meals (Justin was not keen on most of what I made) I was glad to finally get a good review last night 🙂 Our meal plans for tonight have changed again. We are going to try some of our new beef. We're grilling steak!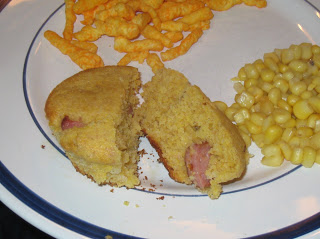 Corn Dog Muffins
favorite corn bread recipe (see link above for mine…I used 3/4 cup all purpose flour and 1/4 cup whole wheat flour this time…a little healthier :P)
hot dogs
Prepare corn bread batter. Cut up hot dogs. Fill muffin cups half way with batter. Add a few hot dog pieces (I think I did about 5 each, sliced and halved pieces). Top with a little more batter. Bake according to corn bread directions. I baked mine at 400 degrees for about 20-22 min.