This post may contain affiliate links which won't change your price but will share some commission.
I made a Barefoot Contessa recipe last night that I've had marked in my cookbook for a while. This salad is meant to be a side dish. But I added a few things to make it a main dish. I'll post the original recipe (and picture with just those ingredients) and then what I added (and another picture). This was very good!!! And super easy. I never thought of using pesto as a salad dressing. But it works well. I didn't make her recipe for the pesto. I just used some homemade spinach pesto I had in the freezer.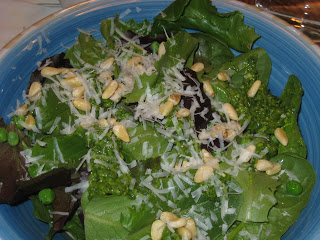 Pesto Pea Salad
2 cups of frozen peas, thawed
2 Tbsp. pignolis (pine nuts), toasted
2 1/2 cups baby spinach leaves (I used a mix of garden spinach and boughten organic baby romaine)
grated parmesan (I used asiago since that's what I had on hand)
4 Tbsp. pesto, recipe follows
My additional toppings:
cooked chicken chunks
avocado
beans (a mix of garbanzo, pinto and northern)
corn
croutons (gluten free w/o these)
roasted brussel sprouts and cauliflower
To assemble, place the spinach leaves in a salad bowl. Sprinkle the peas and pignolis over the spinach. Add the pesto and toss. Top with cheese. (We each assembled our own salad in individual bowls.)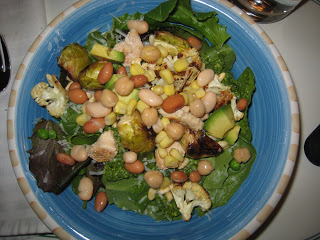 Pesto:
1/4 cup walnuts
1/4 cup pignolis
3 Tbsp. diced garlic (9 cloves)
5 cups fresh basil leaves, packed
1 tsp. kosher salt
1 tsp. freshly ground pepper
1 1/2 cups good olive oil
1 cup freshly grated Parmesan
Place the walnuts, pignolis, and garlic in the bowl of a food processor fitted with a steel blade. Process for 30 seconds. Add the basil leaves, salt, and pepper. With the processor running, slowly pour the olive oil into the bowl through the feed tube and process until the pesto is finely pureed. Add the Parmesan and puree for a minute. Serve, or store the pesto in the refrigerator or freezer with a thin film of olive oil on top.