This post may contain affiliate links which won't change your price but will share some commission.
For lunch today I made another Year of Crockpotting recipe. It was very easy to throw together and it tasted great! Even Rebecca gobbled it right up. Definitely a keeper. For veggies I just threw in some frozen veggies. No time to cut veggies this morning (barely had time to get frozen veggies in with a little girl that kept waking up crying :\). I used lean sweet italian turkey sausage. When I tried to slice it the casing came off. So they were more like sausage chunks. Oh well. I wasn't thrilled about eating pork casing anyway :p And i just threw in a handful of uncooked brown rice…maybe 1/4 cup. This made enough for our lunch today, 2 lunches for Justin this week and a little extra to feed Rebecca. You could easily make a larger or smaller pot of this. My comments are in italics.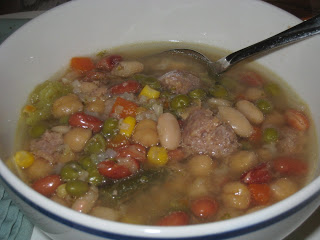 Crockpot White Bean and Sausage Soup
1 can white kidney beans
1 can pinto beans (I guess these aren't really white)
1 can garbanzo beans
1 tsp. thyme (oops forgot this since I had to stop in the middle of prep to deal with Rebecca…didn't miss it. There was plenty of flavor w/o adding any seasoing besides the better than bouillon)
2-4 spicy chicken or turkey sausage (I used 2 sweet sausages…we aren't big on spicy food)
1/2 chopped yellow onion
1/2 cup leftover rice pilaf (if you want to use raw rice, you should have enough liquid to add 1/4 to 1/3 cup without losing soupiness)
2 cups chopped fresh vegetables (I had broccoli, carrots, asparagus) (I used organic frozen mixed veggies and some frozen broccoli)
1 quart chicken or vegetable broth (I used organic better than bouillon mixed with water)
Drain your beans and throw them into your crock. Chop up whatever vegetables you are going to use in tiny pieces. I used my Pampered Chef handy dandy chopper. Slice the sausage that you are going to use. I chose to use two spicy turkey sausage—if you would like your soup to have a kick, use more than two. Two just kind of gives flavor without spice. Cook on low for 6-9 hours, or on high for 4-5. The soup is done when it's heated through and the vegetables are tender, but it's not going to hurt anything to cook it longer and give the flavors more time to meld.