This post may contain affiliate links which won't change your price but will share some commission.
I had some really ripe bananas to use up so I made a batch of banana bread yesterday. I can't believe I haven't posted this recipe yet…or made it in so long! This is my mom's recipe. It's the only banana bread I've ever made. So yummy. And very easy.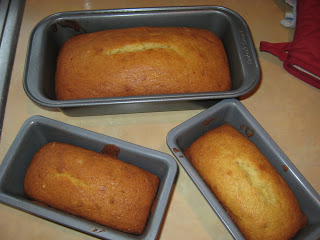 Banana Bread
3/4 cup organic cane sugar or sucanat
1/2 cup butter, room temp
2 eggs
2 cups whole wheat or all purpose flour
5 Tbsp. sour milk (4 Tbsp. milk + 1 Tbsp. vinegar) or buttermilk
1 cup mashed banana (the riper the better)
1 tsp. baking soda
1 tsp. baking powder
1 tsp. salt
Cream sugar, butter and eggs. Add remaining ingredients and mix well. Put in two 9″ buttered loaf pans. Bake @ 350 degress for 35-45 min.
*I used one medium loaf pan and two small pans. The small pans took 25-30 min. The medium pan took about 40 min. Depends how done you like your bread. I like it on the less done side…lighter is better 🙂 Although these did end up fairly done/dark. Justin likes it that way better I think.