This post may contain affiliate links which won't change your price but will share some commission.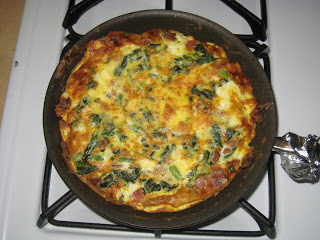 Justin is home…which means back to cooking 🙂 I made another new egg dish last night. I think this month's food has been my favorite so far 🙂 I just love eggs! I made a frittata. I've never made one before. Wow, they are easy and good. A cross between an omelet and a quiche. I didn't use a recipe. I just did a little looking online to figure out the method. Then I came up with my own. I'll try to post approximate quantities. It was very good!!! Justin and I both liked it a lot. I used an 8″ skillet. Justin and I ate half of it. If you want a larger frittata you can use a larger skillet and use more eggs. I served it with salad (fresh spinach and lettuce from our garden:) topped with avocado, walnuts, cucumber (me) and shredded cheddar (Justin). A very satisfying, healthy meal using the first produce from our garden.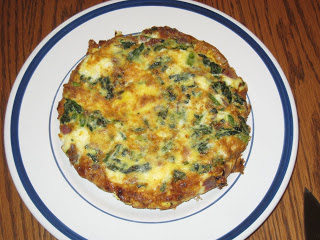 Spinach, Aspargus and Goat Cheese Frittata
6 eggs
1/4 cup chopped onion (I used organic red onion)
1/2 cup chopped spinach (I used a little fresh from our garden, chopped and some thawed frozen organic)
1/4 cup chopped asparagus (from our garden)
1 slice thick cut bacon, cooked and crumbled (optional…meatless dish w/o it)
2 oz. goat cheese, crumbled
fontina for topping (or any cheese you like)
salt and pepper
Preheat broiler. In 8″ oven proof skillet saute onion, spinach and asparagus in small amount of EVOO over medium heat. Meanwhile whisk eggs and salt and pepper. Stir in goat cheese. When veggies are tender add bacon and poor in egg mixture. Stir to distribute filling evenly. Cook until mostly set (center will still be a little loose. Grate fontina over top. Place under broiler until center is set and slightly browned – 2-4 min. Let set for a minute or two. Transfer to plate and slice into wedges.