This post may contain affiliate links which won't change your price but will share some commission.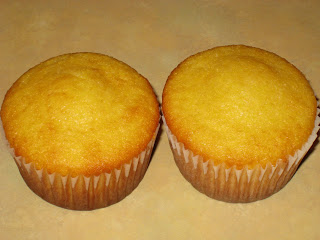 I'm serving corn muffins with the corn chowder tonight. I got this recipe a long time ago from All Recipes. And I've never tried another one since then. It's so good. And so easy. You don't even need to use a mixer. I usually make it in a 9″ round pan. But I'm doing muffins tonight…easier to serve to guests. I'll add a pic later.
*Edited 1/13/11 to be NT compatible.
Golden Sweet Cornbread
3/4 – 1 cup all purpose flour whole wheat flour (sprouted or regular)
1 cup yellow cornmeal (preferably organic)
2/3 cup white sugar organic cane sugar
1 tsp. unrefined sea salt
3 1/2 tsp. baking powder (aluminum free)
1 egg
1 cup milk
1/3 cup vegetable oil melted coconut oil
Heat oven to 400. Butter a 9″ round cake pan or 12 cup muffin pan. In a large bowl combine flour, cornmeal, sugar, salt and baking powder. Stir in egg, milk and oil until well combined. Pour batter into pan. Bake 20 – 25 min. (for bread) 15 – 20 min. (for muffins), until toothpick inserted in center comes out clean.
* We eat it with butter, syrup, jelly, jam or just plain.
*It goes really well with chili.
*This recipe works very well for corn dog muffins.