This post may contain affiliate links which won't change your price but will share some commission.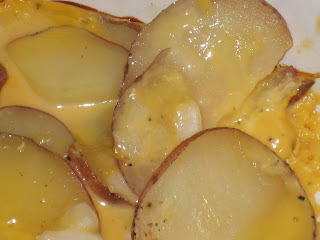 I made au gratin potatoes with our pork roast. I got this recipe from Velveeta a while ago. I've made them several times. I didn't have any…I don't eat a ton of potatoes. But Justin likes them. Although he says a lot less onion would be good.
Au Gratin Potatoes
4 cups sliced potatoes (4-5 medium potatoes)
1/2 lb. (8 oz.) Velveeta, cut up
1/2 cup chopped onion (less than 1/4 cup is sufficient)
1 tsp. dry mustard (0ptional)
1/4 tsp. pepper
1/2 tsp. salt
Cook potatoes in boiling water 8-10 min., until fork tender. Drain. Toss potatoes with remaining ingredients in greased 2 qt. round casserole. Cover. Bake at 350 for 25 min. Stir gently (I didn't do this…just served them right out of the oven).