This post may contain affiliate links which won't change your price but will share some commission.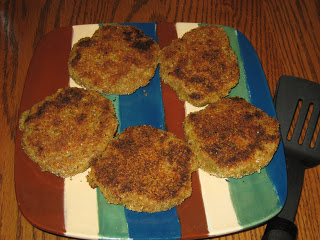 I created a new recipe last night. I combined fish cakes and zucchini pancakes (I've made them both before). I based it on a Robin Miller recipe I made once. I didn't measure anything, just added and mixed as I went. I prepped these in the morning. Then right before cooking them I coated them in a cheese breadcrumb mixture. They were really good!! Definitely something I'll make again. We both loved them. I'll try to write down what I did…so I can remember next time 🙂 This can easily be doubled or tripled if you want to freeze a bunch. They are pretty filling. We each had 1 1/2.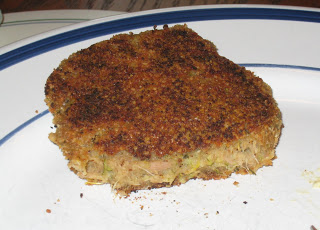 Tuna Zucchini Cakes
1 can chunk light tuna in water, drained well (you could use any kind of fish)
1 small yellow zucchini, grated
1 small green zucchini, grated
1/4 cup mayonnaise
1/4 – 1/2 seasoned dry whole wheat bread crumbs
1 Tbsp. dijon or spicy brown mustard
1 1/2 tsp. Old Bay seasoning
1 tsp. Italian seasoning
1/4 – 1/2 cup whole wheat bread crumbs
1/4 – 1/2 cup grated parmesan cheese
Mix first 8 ingredients. Add extra breadcrumbs if too moist. Form into patties. At this point you can place them on wax paper and refrigerate or freeze them. When ready to eat mix last 2 ingredients on a small plate. Coat the cakes in the mixture one at a time. After coating place on a hot non-stick skillet coated with cooking spray over medium heat. Cook 7-8 min. per side. Serve plain or with tartar sauce. Makes 5 cakes.