This post may contain affiliate links which won't change your price but will share some commission.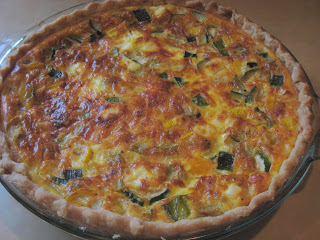 For dinner last night I made a modified version of a quiche I've made before. This time I used a crust (no gf :), homemade basil pesto, goat cheese and sauteed zucchini and onions. So yummy!!! We all loved it! Yet another recipe with zucchini that Justin loves. I'm starting to think he doesn't dislike zucchini as much as he thinks :p Anyway, I'll link to the original recipe and post what I did yesterday. I doubled the eggs this time since it was so thin last time.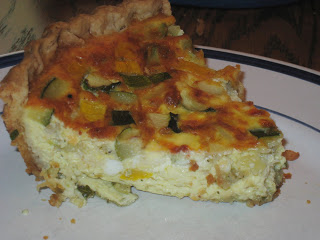 Pesto, Goat Cheese and Zucchini Quiche
1/2 cup pesto
1 (9 inch) unbaked pie crust (I made it from scratch…replacing all of the shortening with butter for the first time…worked really well) (you can make it without a crust for it to be GF…still tastes great!)
4 Tbsp. crumbled goat cheese
6 eggs
1 3/4 cups milk
1 small yellow and 1 small green zucchini, chopped
1/4 cup onion, chopped
1 cup shredded cheese (I used a combo of mozzarella and cheddar)
salt and freshly ground black pepper to taste
pinch of nutmeg
Saute zucchini and onion in skillet with a little EVOO. Set aside. Preheat the oven to 350 degrees F. Spread pesto evenly in the bottom of the pie crust. Sprinkle goat cheese over pesto.
In a large bowl, beat together eggs and milk. Season with salt and pepper and nutmeg. Add cheese and veggies. Pour over goat cheese in pie crust. Bake in preheated oven for 1 hour or until set.