This post may contain affiliate links which won't change your price but will share some commission.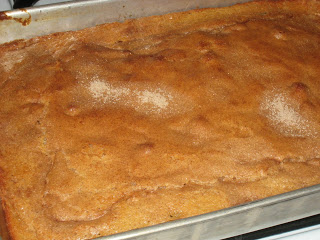 I continue to experiment with soaking grains and swapping ingredients. I had some buttermilk and plain yogurt to use up, so I decided to see what I could do with my recipe for yum yum coffee cake yesterday. I replaced the AP flour with half whole wheat flour and half white whole wheat flour. I used organic butter. I replaced all of the sugar with organic cane sugar. I added a few raisins. And I soaked the grains ahead of time. And the verdict…AMAZING! Seriously. It is way better than the original version. So moist and delicious. All 3 of us munched on a bunch right out of the oven even though it was close to dinner time. It was just too good not to. Rebecca kept asking for more. And she walked around saying "mmmmm." I'm so glad I tried this. I'll be making it this way from now on. And I'll feel much better about serving it and eating it knowing that is much healthier. And hooray for my 3rd successful attempt at soaking grains! I think I do notice a difference in my digestion when I do it. So I will definitely keep trying. This was such a treat for breakfast this morning. Still just as moist this morning as it was yesterday right out of the oven. And I'm glad I have a bunch more in the freezer now. I'm going to post this as a separate recipe since it's quite different from the original.
This recipe is linked to GNOWFGLINS probiotics at every meal – breakfast ideas. Lots of yummy, healthy breakfast ideas.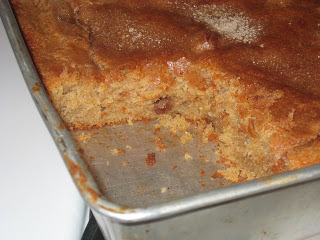 Whole Wheat Cinnamon Raisin Coffee Cake
2 cups whole wheat flour (I used half whole wheat and half white whole wheat)
1 tsp. baking powder
1 tsp. baking soda
1/2 tsp. salt
3/4 cup butter, at room temp
2 eggs
1 – 1 1/2 cups cultured buttermilk or plain yogurt…enough to get all of the flour moist (I used about half each…what I had on hand) (kefir would work well too)
1 cup cane sugar
1 tsp. vanilla
1/2 cup raisins (optional)
Topping:
1/3 cup cane sugar (regular or brown)
2 tsp. cinnamon
1/2 cup nutmeats (optional)
———————————————-
To soak grains:
Mix flour, buttermilk and/or yogurt. Cover and let set on counter at least 8 hours.
When ready to bake:
Heat oven to 350 deg. Grease a 9×13 pan.
Mix topping ingredients, set aside.
In a large bowl cream the butter and sugar. Add the eggs, one at a time. Beat well. Add vanilla and mix. Add wheat mixture, baking powder, baking soda and salt and mix well. Add extra yogurt or buttermilk if too thick. Put half of the batter in the prepared pan. Top with half of topping and all of the raisins. Spread the rest of the batter on top. Top with remaining topping. Bake 35-40 min.
Serve warm or room temperature. Freezes well. Can be served for breakfast, brunch, a snack or even dessert (with vanilla ice cream:)