This post may contain affiliate links which won't change your price but will share some commission.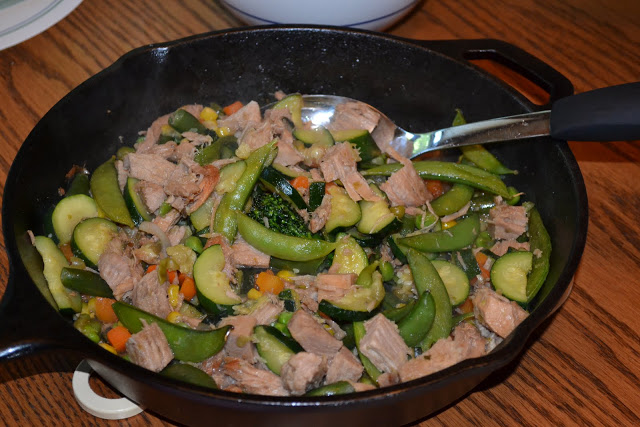 I used to make stir fry all the time. And I always used the packets of powder for sauce. Needless to say I have not used those in quite a while. Too many questionable ingredients (never quite sure what those "seasonings" are).
So that means making my own sauce to make stir fry. Well…that's tricky too. I try to avoid all soy…including soy sauce. So that eliminates just about every recipe you find.
I wanted to make stir fry last night. But I had no idea what to use for sauce. So I came up with a very easy, very tasty recipe! So simple. I had a little beef soup leftover in the fridge…which has lots of good flavor. I combined the broth with a little bit of honey…ta da…sweet and sour sauce that is actually very nutritious! And we all loved it.
Now when I have just a bit of soup/broth leftover I'll know what to do with it. And now I can make stir fry more often again. No bright orange/red sauce with high fructose corn syrup.
This is a great way to get a variety of vegetables in one meal. Last night I used zucchini, sugar snap peas, broccoli, carrots, beans and corn (cooked in coconut oil for even more nutrition). And I used some leftover pork roast (from the freezer) cut in cubes. So quick and easy. A big hit!
I'm so glad I now have a healthy, easy way to make stir fry. The leftovers make a yummy breakfast, too. This recipe is even GAPS legal and very allergen-friendly. You can serve it over rice or quinoa. It is great on top of butternut squash as well.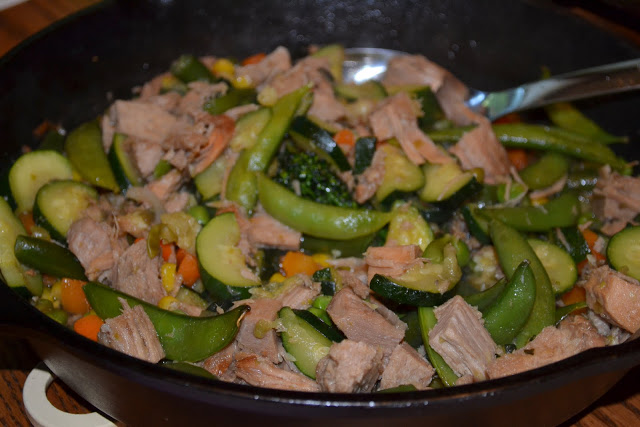 Sweet and Sour Stir Fry
2 cups meat of choice, cut in chunks (raw or cooked)
3 cups vegetables of choice cut up
2 Tbsp. coconut oil or other fat (butter, lard, palm shortening)
1 cup any kind of bone broth
1/4 cup honey
If meat is raw cook in coconut oil in hot pan (if it's already cooked start with next step).
Remove the meat from the pan and set aside.
Cook the vegetables in coconut oil in the hot pan until done to desired tenderness.
Add in cooked meat. Add in broth and honey.
Simmer the mixture until the broth reduces and forms a sauce. Add more broth if the mixture is too dry. Add more honey for a sweeter sauce.
Serve over rice, noodles, quinoa or squash.. Top with crispy nuts if desired.