This post may contain affiliate links which won't change your price but will share some commission.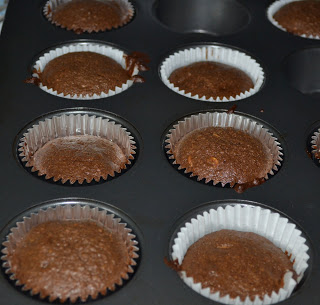 Another long morning here with both kids up and raring to go earlier than usual. A long morning with no plans means…time to bake! I had actually semi planned on baking anyway, so I did have something in mind. I made another grain free muffin. I wanted to experiment with making one that was "chocolate." I used carob instead to make them healthier. I can't say these are GAPS legal because carob is on the no-no list 🙁  But I had one anyway 😛  They turned out well. I used my strawberry muffin recipe as a base and modified some things. I did add a few peanut butter chips to give a little extra flavor (not healthy, I know…but it's only a few in each muffin). These are almost more like a cupcake…you could definitely use them that way. I'll have to try making some frosting for these sometime. These are good…Rebecca and I both had one. I think next time I'll add a little more honey and a little more chocolate extract to bump up the flavor a bit. And I might add another egg to add a little more moisture. But overall very good. And great texture. My other experiment was using mostly ground crispy nuts instead of regular almond flour. I just ground a mix of almonds, pecans and walnuts in the food processor until it was almost like nut butter (a little more coarse). Then used that in combo with a little almond flour. Still worked great. I'll do that more often now so that my baked goods are easier on the tummy. And I don't have to buy almond flour. A fun experiment. And tastey too. Not great pics…I was holding Abram and couldn't adjust any camera settings, zoom, etc. And the muffin I took a picture of hardly had any chips (the small one I gave Rebecca to try).
This post is linked to Grain Free Tuesdays at Hella Delicious,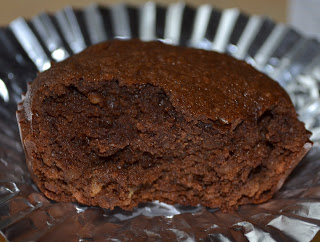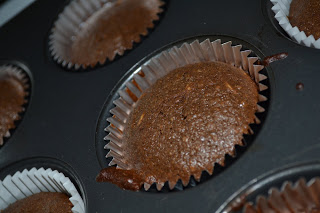 Carob Muffins
1 1/2 cups of nut meal, nut flour or ground nuts (I use ground crispy nuts)
3 large eggs, separated
1/3 – 1/2 cup of honey
1/4 tsp. of sea salt
2 tsp. of vanilla extract
3 tsp. chocolate extract
1/4 cup carob powder
1 cup add ins (optional…chocolate chips, peanut butter chips, carob chips, dried cranberries, dried cherries, etc.)
Preheat oven to 300 degrees. Prepare muffin tins with liners or grease with oil or butter.
In a small bowl beat egg whites until stiff peaks form. Set aside. In separate bowl mix all other ingredients (except add ins) until smooth. Fold in egg whites. Fold in add ins. Fill muffin cups.
Bake for 30 – 35 minutes. Makes 9 – 10 muffins.