This post may contain affiliate links which won't change your price but will share some commission.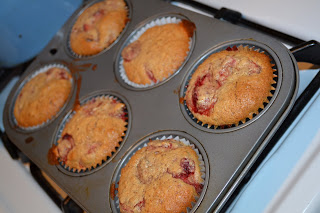 I continue to experiment with grain free baking. This morning I tried a new muffin recipe from Organic and Thrifty. The original recipe is for blueberry muffins. I made strawberry since Rebecca has been requesting some. I also made a few other modifications to the recipe. I used mostly my home-ground crispy almond/pecan flour. It's much coarser than the almond flour I buy in the store since I use a food processor to grind it (don't have a coffee grinder). And I omitted the baking powder to make it GAPS legal. To do so I separated the egg yolks and whilte. I beat the whites until stiff and folded them into the batter. Seemed to work quite well. I also didn't make a full recipe, so I scaled things down a bit. Overall these were really good! They didn't hold together as well as some muffins, but I think that's because of the strawberries. They made them very  moist. A different fruit or maybe even just baking them a few more minutes would change that. The last few muffins hardly had any berries in them, and they held together nicely. The coarse nut flour worked fine. There were just a few nut chunks in the batter. Yum! I will for sure make these again and experiment with different flavors. And of course they are better with lots of butter on top 🙂  I'll post the recipe as I made it.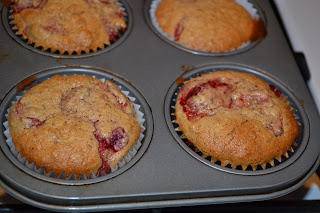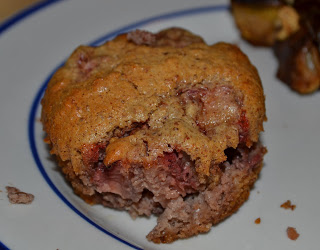 Grain Free Strawberry Muffins
1 1/2 cups of almond meal, almond flour, or hazelnut flour (can be made by grinding crispy nuts in a coffee grinder or food processor. I used almond pecan flour.)
2 large eggs, separated
1/4 cup of honey
1/4 tsp. of sea salt
1 Tbsp. of vanilla extract
1 cup strawberries (or any other berry/fruit/dried fruit)
Preheat oven to 300 degrees. Prepare muffin tins with liners or grease with oil or butter.
In a small bowl beat egg whites until stiff peaks form. Set aside. In separate bowl mix all other ingredients (except berries/fruit) until smooth. Fold in egg whites. Fold in berries/fruit. Fill muffin cups.
Bake for 35-45 minutes. Makes 9 muffins.