This post may contain affiliate links which won't change your price but will share some commission.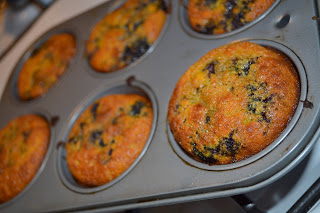 I have a couple grain free muffin recipes I want to try. I debated about what to make for breakfast today. I've been using a lot of almond flour lately, so I decided to do something different and try a coconut flour recipe. I got the recipe from Simply Coconut. The base recipe is for honey muffins. Then you can vary it. I made it into blueberry muffins. I'll have to try other versions for sure. These turned out really well. Justin and I both really like them (especially warm with lots of butter :). Coconut flour is quite sweet, so you don't have to add much sweetener. I may even cut back next time. This is a small recipe (made 6 muffins)…good for experimenting 🙂  I greased my muffin pan today…I'll be using muffin cups in the future. Even with a good greasing they stuck quite a bit. The recipe doesn't specify how long to bake them very well. Mine took almost 25 minutes. The one down side…I can't technically call them GAPS legal because they use baking powder (which contains cornstarch). But it's only 1/4 tsp. So I figured the amount of cornstarch in each muffin was so minute that I don't think it will matter.  If you seaparte the egg yolks and whites, beat the egg whites until stiff and fold them into the batter you can omit the baking powder…and make them GAPS legal. Hopefully I'll have to time to make at least one more batch of these in the next few weeks to freeze so I have some on hand post-baby 🙂
*Edited 6/2/11 – I made a batch of these yesterday without baking soda (the egg white method). Worked great! I also used coconut oil instead of butter and kefir instead of milk. I made a cherry chocolate chip version. Wow!!! So good. I just hope my tummy handles the coconut ok this time. I even baked them in my toaster oven. So nice to be able to do that when it's hot so I don't heat up the house. I will update the recipe to make it GAPS legal/without baking soda.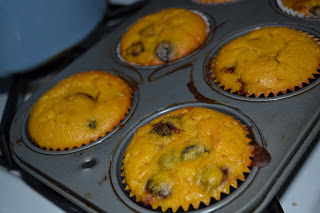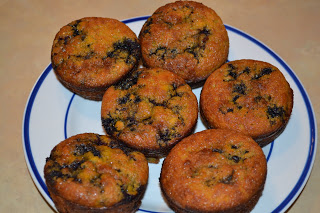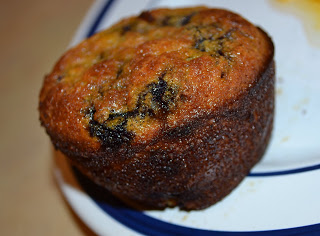 Coconut Flour Honey Muffins (Blueberry Variation)
3 eggs, separated
2 Tbsp. butter or coconut oil, melted
2 Tbsp. coconut milk, whole milk or kefir
3 Tbsp. honey (or less)
1/4 tsp. salt
1/4 tsp. vanilla
1/4 cup sifted coconut flour
——————–
1/2 – 3/4 cups blueberries, cherries or strawberries (fresh or frozen, thawed) (optional)
1/4 cup chocolate chips (optional)
1/2 tsp. cinnamon (optional)
Beat egg whites until stiff. Set aside. Blend together egg yolks, butter, milk, honey, salt, cinnamon, vanilla and flour. Mix well. Fold in egg whites. Fold in fruit. Pour batter into well greased or paper lined muffin cups. Bake at 400 degrees F (205C) for 20 – 25 minutes. Makes 6 muffins.