This post may contain affiliate links which won't change your price but will share some commission.
I have a recipe for sugar coated pecans that I've made many times. They are soooo good. Yesterday I wanted to make some…but in a GAPS-legal way. So I used honey instead of sugar. I also used cripsy pecans, almonds and walnuts. These turned out quite well. They don't have quite the same texture, and they are definitely a bit stickier. But still good. Any nut will work. I think the almonds turned out the best.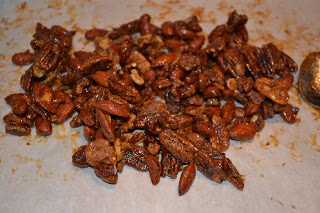 Honey Coated Nuts
2 egg whites
1 tsp. vanilla + enough water to make 1 Tbsp.
1 pound crispy nuts
1/2 – 1 cup raw honey
3/4 tsp. sea salt
1 tsp. ground cinnamon
Preheat oven to 250 degrees F (120 degrees C). Line a baking sheet with parchment paper.
In a mixing bowl, whip together the egg white and water/vanilla until frothy. In a separate bowl, mix together honey, salt, and cinnamon.
Add nuts to egg whites, stir to coat the nuts evenly. Remove the nuts, and toss them in the honey mixture until coated. Spread the nuts out on the prepared baking sheet.
Bake at 250 degrees F (120 degrees C) for 1 hour. Stir every 15 minutes.