This post may contain affiliate links which won't change your price but will share some commission.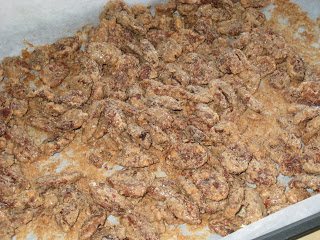 I've had this recipe from All Recipes marked for quite a while now. I finally decided to try it as part of our Seder meal (see next post for details). With over 700 reviews and a 5 star rating I figured it had to be pretty good. And a while ago Justin asked for praline pecans…which I couldn't find. So I gave these a try. These are wonderful!!!!! Our house smelled like those nut stands at the mall or at sporting events. And it was unbelievably simple. Only took a few minutes to get them in the oven. I followed the suggestions of some of the reviews and used 2 egg whites instead of 1. And I replaced a little of the water with vanilla. These will make a great snack (and they are gluten free:) or a good munchy to set out when we have guests. And it makes quite a bit, so I have some in the cupboard and some in the freezer. They really are good right out of the oven. Mmmm. I want some now. I bet this recipe would work well with other nuts too. Almonds would be really good. We sprinkled these on chunky cinnamon applesauce. I bet they would be really good on vanilla ice cream with caramel.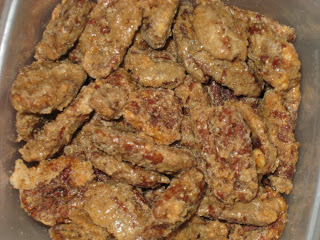 Sugar Coated Pecans
1 egg white (I used 2)
1 Tbsp. water (I used 1 tsp. vanilla + enough water to make 1 Tbsp.)
1 pound pecan halves (preferably soaked and dehydrated)
1 cup organic cane sugar (or sucanat)
3/4 tsp. salt
1/2 tsp. ground cinnamon (I used 1 tsp.)
Preheat oven to 250 degrees F (120 degrees C). Grease one baking sheet (I just lined mine with parchment paper. Worked great.).
In a mixing bowl, whip together the egg white and water until frothy. In a separate bowl, mix together sugar, salt, and cinnamon.
Add pecans to egg whites, stir to coat the nuts evenly. Remove the nuts, and toss them in the sugar mixture until coated. Spread the nuts out on the prepared baking sheet.
Bake at 250 degrees F (120 degrees C) for 1 hour. Stir every 15 minutes.