This post may contain affiliate links which won't change your price but will share some commission.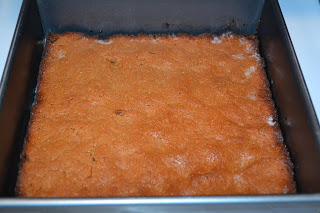 Yesterday was a cold and rainy day (with thunderstorms and hail…at the end of April…yuck!), so Rebecca and I decided to bake. I saw a super simple recipe on Grain Free Foodies recently for peanut butter brownies. We gave it a try. It was very simple. Only 3 ingredients! The verdict…ok. Honestly they don't have a ton of flavor. I think I'll add a little more honey if I make them again (I used about 1/3 cup). They would definitely be better with something chocolate in them 😛 They got a little dark on the edges. I think that might be from the palm shortening I used to grease the pan. Rebecca really likes them. So that makes this a great recipe…not very sweet and GAPS legal…and Rebecca likes them. Score 🙂 The original recipe uses baking soda. I left it out. The texture is really good. I think I just still have a big sweet tooth. Hopefully at some point that will change and these will taste sweet to me 🙂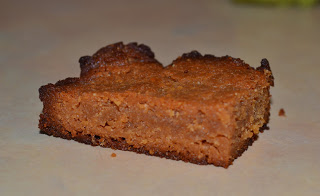 Grain Free Peanut Butter Brownies
1 cup peanut butter (or any kind of nut/seed butter)
1/2 cup honey
1 egg
1/2 tsp. baking soda (not GAPS-legal, it works fine if you leave it out)
Thoroughly mix all ingredients (an electric mixer works well). Pour into a generously greased 8″ x 8″ baking pan and bake at 350 degrees for 25 minutes, or until an inserted knife comes out clean. Do not overbake- these are so moist and chewy but get dry if baked too long.