This post may contain affiliate links which won't change your price but will share some commission.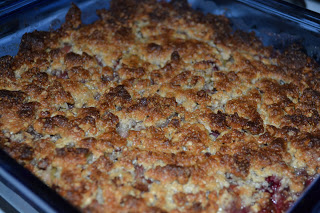 The farmer's market started this week. And what are some of the first things there every year? Strawberries and rhubarb!!! A great combo for desserts. Yesterday Rebecca and I experimented with a grain free crisp. I didn't have a recipe, and I didn't measure anything. So I'll do my best to write down a recipe. I used honey to sweeten it. And a combo of almond flour, coconut flour, chopped nuts, honey, coconut oil and butter for the topping. Turned out quite well. A little liquidy since I didn't/couldn't add any kind of starch/thickener. But still very good. And the liquid at the bottom worked well for syrup on top of the ice cream…on top of the crisp 🙂  Justin and Rebecca had some with vanilla ice cream. I was "good" and ate it plain. Still a nice treat. And very healthy! One more dose of coconut oil in my day 🙂  And healthy fruit. I would even consider serving this for breakfast. Really it's quite healthy. Add some yogurt on top. A great treat for breakfast. This is a fun dessert to make with kids. Aside from the chopping Rebecca could help me with everything. And, yes, the last picture is the crisp in a princess bowl (hard to tell)…it was Rebecca's snack…all I had time to get a picture of.
This post is linked to Grain Free Tuesdays at Hella Delicious.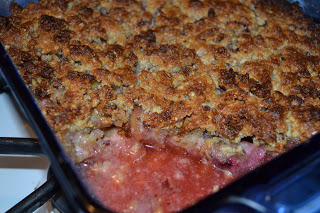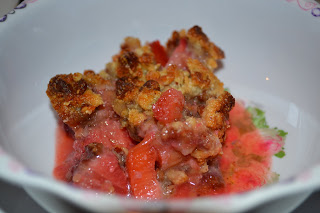 Grain Free Strawberry Rhubarb Crisp
3 cups diced rhubarb
2 cups chopped strawberries
1/3 – 1/2 cup honey (to taste)
Topping:
1/2 cup almond flour
1/4 cup coconut flour
1/2 cup melted coconut oil, butter or a combo of the two (I used both…it's dairy free if you just use coconut oil)
1/2 cup chopped nuts (I used crispy walnuts and pecans)
1/4 cup honey
Grease 8×8 baking dish. Combine rhubarb, strawberries and honey. Pour into dish. Combine topping ingredients. Drop or press on top of fruit. Bake at 350 for 30 – 40 min. (until fruit is cooked and topping is slightly brown). Let cool. Serve plain or with ice cream, whipped cream or yogurt.